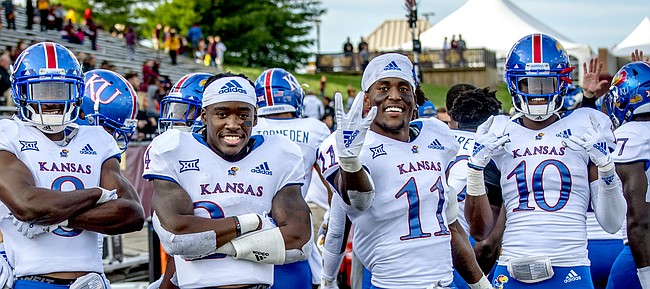 Mike Lee's bravado knows no bounds.
Always confident and inevitably glad to let anyone who is listening know what's on his mind, the Kansas football safety made it known this spring he has considerable goals in store for the defense in 2019.
Remember how this past season the Jayhawks emerged as one of college football's best teams at taking the ball away, finishing with 27 turnovers gained?
Well, Lee has even more gaudy numbers in his sights for his senior season at KU.
"We want to get to at least 30," a grinning Lee told the Journal-World, before immediately upping the takeaway ante, "40."
During the 2018 college football season, Ohio and Utah State led the nation in turnovers gained, with 32. Kansas wasn't far behind. The Jayhawks were tied for the eighth-best mark in all of FBS in that category and led all Big 12 teams with 27, by finishing with 11 fumble recoveries and 16 interceptions. KU even achieved those totals while playing in 12 games. Every FBS team that finished higher in the category played 13 games.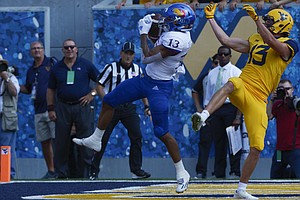 However, Lee doesn't want the Jayhawks feeling satisfied with their past production on defense.
"Just keep it going, set the bar higher for the next generation," Lee said of his mindset.
Takeaways became a strength of the KU defense in Clint Bowen's final year as defensive coordinator (he's now the safeties coach on Les Miles' staff). Many of the players who helped create those turnovers are still around now, and learning new coordinator D.J. Eliot's 3-4 scheme.
Fourteen of the team's returning defenders played some role in KU's takeaway craze in 2018:

• Hasan Defense — three interceptions and one fumble recovery
• Bryce Torneden — one interception and two recoveries
• Mike Lee — one interception, one recovery and three forced fumbles
• Corione Harris — one interception and one forced fumble
• Kyron Johnson — one recovery and two forced fumbles
• Jeremiah McCullough — one interception
• Ricky Thomas — one interception
• Elmore Hempstead Jr. — one interception
• Denzel Feaster — one recovery
• Davon Ferguson — one interception
• Willie McCaleb — one recovery
• Najee Stevens-McKenzie — one interception
• Azur Kamara — one forced fumble
• DeAnte Ford — one forced fumble
As Lee and the rest of the Jayhawks continue their preparation not only for the first season of the Miles era, but also Saturday's spring game (6 p.m. kickoff, available to stream on ESPN+ and broadcasted locally and throughout the state on various cable platforms), the senior safety from New Orleans aims to set a tone when it comes to takeaways.
"I go out to every practice trying to get a turnover or two. That's really on my goal sheet," Lee shared of his personal aspirations. "That's really what I want to do going into the season, create a lot more turnovers. I really want to go two a game — either picks or a forced fumble. I want to get a lot of turnovers my senior year."
With so many experienced Jayhawks back in the secondary — Lee and fellow seniors Torneden, Defense, McCullough and Hempstead, junior Thomas and sophomore Harris to name a few — Lee said the defensive backfield is deeper than any other position group on the roster.
And the veterans' collective level of understanding, Lee said, shows up during practices, as he tries to spearhead another KU football season full of defensive takeaways.
"We know how the Big 12 works. And we know that in the Big 12 they throw the ball a lot, so we're all right on the same page. We all know that we've got to create turnovers like we did last year," Lee said. "We've got to be like way better than we were last year."