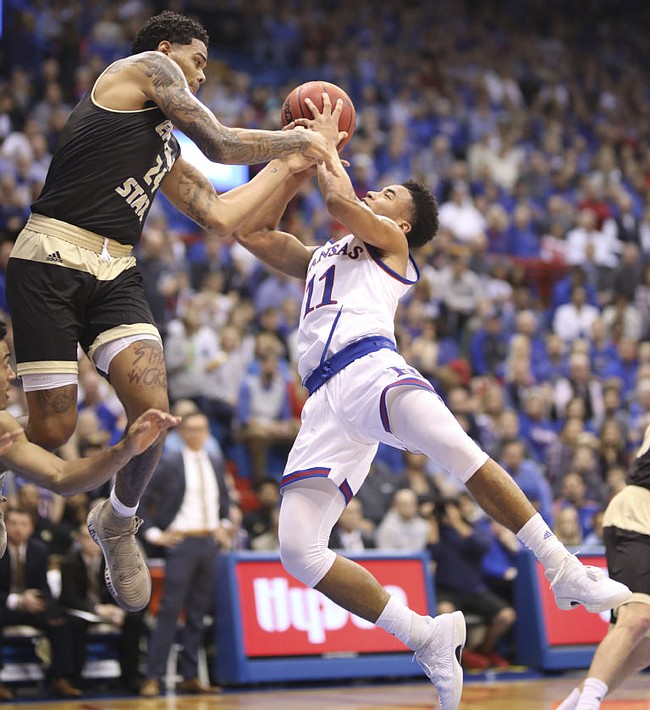 Kansas freshman Devon Dotson did a nice job of summing up the duties of a point guard after helping Kansas put a 93-55 beating on Division II Emporia State in a Thursday night exhibition at Allen Fieldhouse.
"You have to get a great shot every possession," Dotson said of his primary offensive responsibility. "You have to value the ball. I feel I did a pretty good job at it. But first game, I can definitely improve."
At the other end, make sure they don't get a good shot. Pretty simple formula.
"Coach (Bill) Self, he preaches that a lot in practice," Dotson said. "You have to stay in the stance. You have to know your assignments on defense, know what's going on. We go over defense a lot."
Photo Gallery
KU vs. Emporia State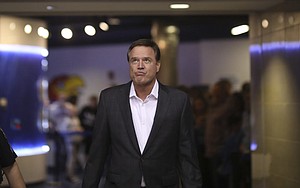 The 2018-19 Jayhawks made their preseason debut at Allen Fieldhouse against Emporia State.
Dotson started on a night Kansas turned it over 22 times, but the blame for that could not be traced to the 6-foot-2 jet of a point guard from ACC country, Charlotte to be exact.
Dotson played 23 minutes at a fast pace, changing speeds to befuddle his defender to get to the hoop on one possession, finding an open big man near the bucket on the next.
He totaled eight points, four rebounds, three assists and two steals, made all four free throws and shot 2 of 4 from the field. And his best statistic: Dotson did not have any of KU's 22 turnovers.
As with any player suited to direct an offense, Dotson already has a feel for where and when teammates like the ball and plans to assist many Dedric Lawson buckets on the pick-and-pop.
"I know that's what he likes to do," Dotson said. "He can extend the defense. You know, a stretch four. I attack the defense, putting pressure on it, and send it out to him. He can knock that shot down, definitely."
Attacking a defense only works for guards who can finish at the rim, and Dotson, a McDonald's All-American, showed that won't be a problem.
He plays with the relentless style that Smokin' Joe Frazier brought to the ring and does so with the speed of Muhammad Ali. Not a bad combination.
"Coach Self always says be downhill and that's my game," Dotson said. "I like to put pressure on a defense, play fast."
Dotson doesn't need to be told twice to play fast any more than Clint Bowyer, pride of Emporia, needs to be told to drive fast.
"Devon's pretty fast," Self said. "He's got some of the Frank (Mason III) explosiveness when Frank was young, obviously. He's pretty fast, but I don't think anybody else really did a great job of playing downhill tonight. The way that they guarded made it a little bit harder to do that, but we have to be better than we were tonight."
Self could have made it easier on his new and different collection of players by running something other than vanilla offense, but with the season opener against a seasoned Michigan State squad not even two weeks away, why would he want to do that?
We'll have to wait to see whether Dotson has the lob pass, always a staple in Self ball, perfected yet.
"We didn't run anything and we won't on Thursday, just to try to save some crutches maybe for the early games," Self said.
No maybe about it, especially with Michigan State trying to open its season by knocking off No. 1 in Indianapolis.