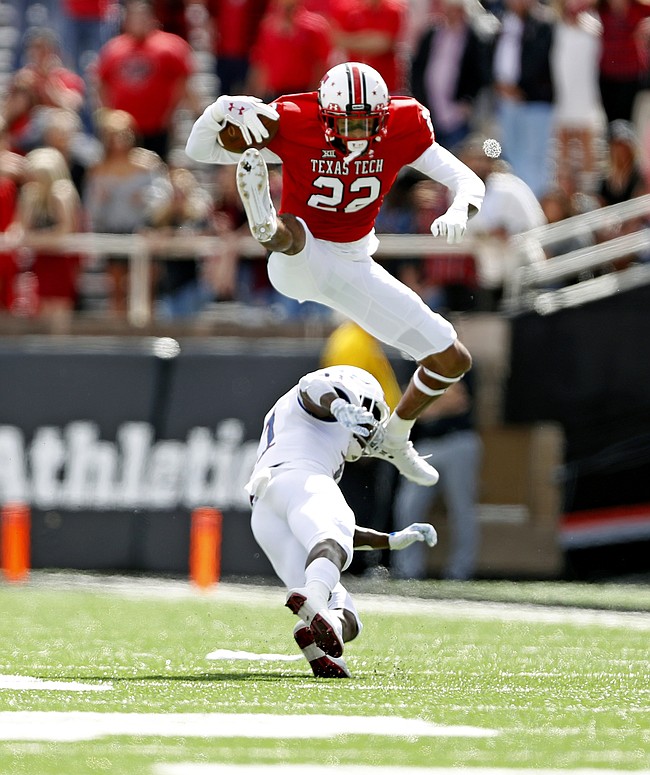 Lubbock, Texas — After missing the Kansas football team's trip to West Virginia due to injury, junior Mike Lee returned to his starting spot in the defensive backfield Saturday at Texas Tech.
But the return proved to be a brief one for the hard-hitting safety from New Orleans.
Lee, who already had come up with nine solo tackles and a forced fumble, was ejected with 32 seconds left in the second quarter at Jones AT & T Stadium.
Following a stoppage to review Lee's tackle of Antoine Wesley, officials called KU's safety for targeting, sending a dejected Lee, who was down on the turf in anger, to the locker room before the midway point of his team's 48-16 loss to the Red Raiders.
"When I saw the replay — I've watched a lot of college football, I'm not real sure if it's easy for these folks to tell sometimes," KU head coach David Beaty said, when asked whether he thought Lee would end up getting ejected on the play. "The consistency has not been really across the board. I wasn't really sure.
"I know he's a hard hitter," Beaty continued. "He put some hits on those guys today. He does drop his head from time to time. When you drop your head, you have to be careful, because you put yourself in harm's way of being ejected. I know it hurt him, tore him up. He didn't want to do that. That's part of his growing up, learning to tackle better, keep his eyes up."
Dineen ties Pless
As of Saturday, redshirt senior linebacker Joe Dineen is tied for first all time at KU in tackles for loss.
With two stops behind the line of scrimmage in Lubbock, Dineen tied Willie Pless with 41 career TFLs.
Sims tied for No. 2 in career yardage
While making two receptions for 38 yards and a touchdown at Texas Tech, senior receiver Steven Sims Jr. put himself in a tie for second in program history in both career receiving yardage and touchdown catches.
Sims tied Kerry Meier in both categories, with 2,309 yards and 18 touchdown receptions.
Ricky Thomas returns
Another safety, KU sophomore Ricky Thomas, returned for the Jayhawks (2-5 overall, 0-4 Big 12), as well, at Texas Tech.
After missing the past three games with an injury, Thomas made two tackles as a reserve.
Big 12 road losing streak continues
The next time KU football wins a Big 12 game on the road will be the first time it has done so since Oct. 4, 2008.
The drought didn't end Saturday in Lubbock, where the Jayhawks dropped their 43rd true conference road game in a row.
They have two more chances to end it this season: Nov. 10 at Kansas State and Nov. 17 at Oklahoma.