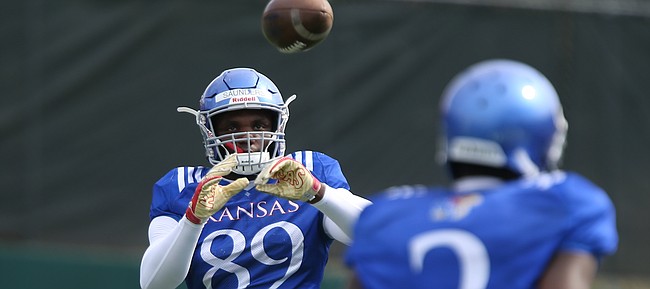 The Kansas football defense spent more time in an opponent's backfield Saturday at No. 9 West Virginia than it had in any other point during the first half of the season.
The Jayhawks, though ultimately unsuccessful in a 38-22 defeat at Milan Puskar Stadium, headed into their bye week having just recorded season highs in both sacks (five) and tackles for loss, sending the WVU offense a combined 79 yards in the wrong direction by making plays behind the line of scrimmage.
One man responsible for that success was a first-time starter up front, senior Brian Lipscomb, a defensive end who joined KU as a graduate transfer from Virginia Military Institute.
On the Mountaineers' second offensive series, Lipscomb stopped Kennedy McKoy for a four-yard loss on 1st and goal. Later, with WVU again in the red zone, the former VMI linebacker sacked quarterback Will Grier five yards behind the line of scrimmage.
"He showed up around that quarterback a bunch," KU head coach David Beaty said of Lipscomb's production after the game, admitting he would have to review the game footage more to know exactly how much of an impact the 6-foot-2, 232-pound edge player made.
"He does have some pass-rush skill about him," Beaty added. "He's not a natural D-end. He was really a linebacker when he came to us and, you know, he came into his own a little bit today."
Lipscomb also made "a couple of mistakes," as well, the fourth-year KU coach said. On a naked bootleg near the goal line early in the game, Beaty pointed out, Lipscomb got "trapped" underneath, allowing Grier enough time to make an easy pass for a touchdown.
"If we would have been able to make him pull up, it probably would have been a little bit more difficult throw. But there's some things (Lipscomb) did well," Beaty said. "The thing I like about Brian is, he's coachable. You can get after him. He doesn't lose his cool. He takes it and he works to get better. And, really, the whole team did that today, because we were pretty intense on that sideline today."
Lipscomb, who has played in all six games, now has 11 total tackles on the season, with 3.0 for a loss.
He joined J.J. Holmes (0.5 tackles for loss and a fumble recovery), KeyShaun Simmons (two total tackles) and Daniel Wise (3.5 tackles for loss, two sacks) as a starter on the defensive line.
A first for former Seminole
Out of the lineup three of the previous four weeks, Mavin Saunders proved helpful in his return to action at WVU.
Another grad transfer, the 6-5 former Florida State tight end hauled in a pass from KU QB Peyton Bender late in the first quarter, scoring a touchdown that allowed KU to cut the home team's 14-point lead in half.
"Mavin coming back, obviously, he was big for us — we had a couple of things with him this week. He's a big target and I think it paid dividends down there towards the goal line," Beaty said. "He got in the end zone and he's a big old body. So having him back was good to see."
In 2017, Saunders played in 10 games during his final year with the Seminoles, but didn't record a catch. He made 10 receptions for 182 yards in his redshirt sophomore season of 2016. Playing in eight games in 2015, Saunders recorded six catches for 52 yards. He took a medical redshirt in 2014, his first year on the FSU campus.
Saunders now has three receptions for 28 yards at KU. One of 15 Jayhawks to make a reception through the first six games, he's the only tight end to do so.
Charlot comes through late
The final margin of KU's loss at WVU wouldn't have looked as good had junior receiver Daylon Charlot not caught a touchdown pass from Bender on the game's final play from scrimmage.
The fourth-quarter clock read 0:00 as Charlot, in his second season playing at KU after transferring from Alabama, made his first TD snag as a Jayhawk on a career-best 18-yard catch.
It was just the second reception of the season for Charlot and his third since becoming eligible to play in 2017.
KU followed the late TD up with a two-point conversion, as Bender threw to Kwamie Lassiter II.
Unusual penalties
KU's loss at West Virginia featured three separate occasions of defenders earning flags for simulating the snap count — two were called against KU and one against host WVU.
Beaty explained what happened on the Jayhawks' end with the atypical penalties, which went against Holmes and Wise.
"There's a lot of communication that goes on, defensive linewise, and we've got to be able to talk. We've got to be able to speak," Beaty said. "So we changed the word a couple of times. And I guess that wasn't enough. And, finally, we settled into something else. But we have to be able to communicate and it is what it is. They called it on both sides. That's the good thing."
Those two five-yard penalties proved to be the only ones against KU's defense. The offense drew four flags that cost the Jayhawks a combined 35 yards. Overall, WVU was flagged seven times for 50 yards.