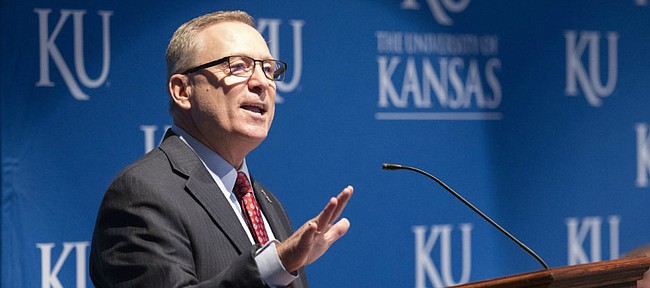 Morgantown, W.V. — In the wake of Saturday's closer-than-expected, 38-22 loss to West Virginia, first-year Kansas athletic director Jeff Long accommodated my request for an interview about his impressions of the football program at the halfway point of the season.
"You know, we got a couple of wins there, won back-to-back games, which is something we hadn't done here in a while," Long said. "We're halfway through and we made it to the bye week. We'll get some people back healthy and then we'll see how we finish the second half of the season."
Those didn't sound like the words of an AD director ready to make a midseason coaching change.
"David's our football coach," Long said. "I'm not going to comment game by game. He's our football coach."
Kansas reached the halfway point with a 2-4 record and an argument can be made that, given the road opponent, No. 9 West Virginia, Saturday was KU's best performance in a Big 12 game since Beaty's 24-21 home overtime victory vs. Texas in 2016.
Even at that, Beaty left himself open to questioning about his curious quarterback shuffle. Coming off the best performance by a KU QB in Big 12 play in a long while vs. Oklahoma State, Carter Stanley received a quick hook Saturday. When first removed, he had thrown four passes, one for a completion for negative-4 yards. He also fumbled on a botched fourth-down play, and threw a pick.
"That's the good thing about having more than one," Beaty said. "When a guy isn't playing well, you have another one."
The easy counter to that, of course, is that not settling on one quarterback prevents them all from developing confidence, undermining their ability to lead.
At season's end, results will determine Beaty's fate, but since the players haven't quit on him, his 5-37 overall record and 1-29 Big 12 mark have not put him in imminent danger.
"They're working hard and you can see in some areas we're getting better and in some areas we're still challenged," Long said. "There were some good things in this game today. We fought. I have been impressed with the way our players fight. They stay in the game. They keep playing hard. In some cases, they're overmatched, but they keep playing. They keep playing hard."
In all three Big 12 games, Kansas has performed better in the second half than the first. Composite first-half score: opponents 68, Kansas 14; composite second-half score: opponents 44, Kansas 43.
All signs point to Long giving Beaty a chance to prove he can make a similar improvement from the first half of the season to the second.