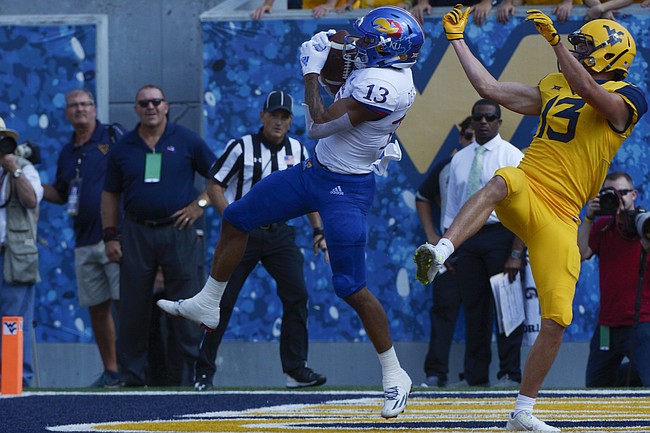 Morgantown, W.Va. — Carter Stanley's second start of the season didn't last long Saturday afternoon at Milan Puskar Stadium.
After the Kansas football offense went four-and-out on its first series and followed that up with a three-and-out and a Stanley interception, the Jayhawks' first in 2018, David Beaty replaced the redshirt junior with former starter Peyton Bender with more than 47 minutes left in what turned out to be a 38-22 loss at No. 9 West Virginia.
"We went through a number of plays there early, and there were some things that we saw that we felt like he would benefit us by putting him in there," Beaty explained of the switching to Bender, which came after KU netted two total yards combined on its first three possessions.
Asked whether some mistakes by Stanley — he also fumbled an exchange with freshman running back Pooka Williams on a 4th-and-1 call on the first series —led to Bender's early appearance, too, Beaty said the coaches identified "some things up front" that kept the offense from succeeding.
"But that's the good thing about having more than one (QB)," Beaty added. "When a guy isn't playing well, you have another one."
Bender didn't think he would be joining the fray quite so early at WVU.
"I try to prepare like I'm going to get reps every week. I figured I might play at some point during the game, didn't know when. But came a little bit earlier than I thought. Not exactly sure as to why," said Bender, whose 16-for-25 passing day led to 191 yards, two touchdowns and his first interception of the year.
Stanley, who only returned to the field briefly in the second and fourth quarters, finished with 15 yards passing, completing five of his eight throws.
He found out just before Bender took over in the first quarter that he was being replaced.
"I knew I had to stay ready. It was a little bit tough but I knew I had to stay ready and locked in," Stanley said.
According to Beaty, it was "really good" to see Bender "ready to go" when KU asked him to replace Stanley.
"Both of those guys have done a good job of preparing and not letting necessarily the noise bother them," Beaty said. "They've been getting ready to go. We've got to, have to, find a way to get those guys to drive us all the way to the end zone. That's what quarterbacks do, and we have to finish that way."
Kendrick returns (kind of)
Though he was expected to miss the game at WVU on Saturday, sophomore quarterback Miles Kendrick made the trip, warmed up before the game and was considered available to play against the Mountaineers.
Kendrick, who injured a shoulder two weeks ago in the second half of KU's loss at Baylor, did not suit up in a Sept. 29 loss to Oklahoma State.
However, Kendrick spent most of the afternoon wearing a headset and communicating with coaches and teammates. He did not check into the game.
Missing Jayhawks
For the third consecutive week, as expected, the KU secondary played without sophomore safety Ricky Thomas, a starter each of the first three games.
KU's depth at defensive back suffered another significant blow, too, at WVU when junior safety Mike Lee was kept out for an undisclosed injury.
Juniors Jeremiah McCullough and Hasan Defense started in the absence of Lee and Thomas.
Defense picked off WVU star QB Will Grier twice in the end zone, returning his second pick for a career-best 60 yards. The former starting cornerback also made seven total tackles and broke up another pass. McCullough, in his first career start, contributed eight total tackles.
The KU offense, meanwhile, played without two receivers — sophomore Quan Hampton and junior Evan Fairs — both out due to injury.
Getting back to takeaways
Though the plays didn't lead to a victory, the KU defense took the ball away from the Mountaineers on four occasions, marking the third time this season the Jayhawks created four or more turnovers.
Defense's two-interception showing was the first for a Jayhawk since Brandon Stewart grabbed two against TCU, in 2016.
Sophomore safety Davon Ferguson recorded his first career interception on WVU's goal line. With his pick, Kansas now has 10 different players with an interception this season.
Senior defensive tackle JJ Holmes secured his first career fumble recovery in the third quarter.