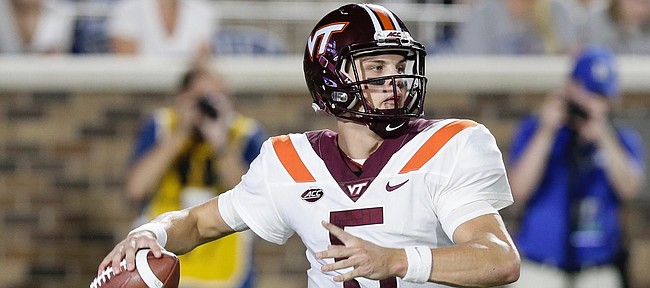 Ryan Willis left the Kansas football program taking far less confidence out of it than he brought into it. He was a beaten young man in need of a fresh start.
So he went to a winning ACC football program that already had four scholarship quarterbacks on the roster and didn't have room for a fifth. He was welcome to join the Virginia Tech program as a preferred walk-on with a chance to earn a scholarship. He believed in himself and was rewarded for doing so.
Willis earned it.
He moved past three scholarship quarterbacks to assume the backup role and was pressed into duty midway through last week's loss to Old Dominion after starter Josh Jackson broke his leg.
And on Saturday night in Durham, N.C., Willis looked like the most confident athlete on the field in leading the Hokies to a 31-14 blasting of No. 21 Duke, which had not lost a game until Willis made them lose.
A fourth-year junior, Willis was an easy choice for ACC quarterback of the week honors for his efforts in his first start at his second school. A 6-foot-4, 223-pound fourth-year junior, Willis completed 17 of 27 passes for 332 yards and three touchdowns. He looked so decisive, so passionate, so on fire emotionally and with his passing touch.
He had the sort of performance one might expect from a quarterback who threw for 330 yards in his second start as a true freshman. That came in a 30-20 loss to Texas Tech, when Willis completed 35 of 50 passes and threw two touchdown passes with one interception.
It was quite the dual with Tech's quarterback, who completed 29 of 50 passes for 354 yards with a touchdown and an interception. Some guy named Patrick Mahomes. Wonder whatever happened to him?
Asked how he thought Willis performed after that game, first-year head coach David Beaty said, "Well, you know, it's going to be tough to say until I see the tape."
Beaty doesn't say that as often as some football coaches, but he did say a version of that again Saturday, after Carter Stanley completed 24 of 32 passes for 247 yards and three touchdowns without an interception.
Willis and Stanley both were part of Beaty's first recruiting class, which also included Dallas Cowboys defensive end Dorance Armstrong, Texas A&M; superstar tight end Jace Armstrong and KU senior receiver Steven Sims.
Stanley redshirted his first season. Willis played right away and he and Montell Cozart, a fellow Bishop Miege graduate, bounced back-and-forth between starter and reserve. Beaty seemed to prefer Cozart, until Stanley won the job late in the 2016 season as a redshirt freshman.
After that year, Willis and Cozart both left KU, and Cozart was almost as much of a co-starter as a backup in his one season at Boise State, where he thrived.
Stanley has spent parts of his career at KU as a starter and has dipped as low as third string, which was where he stood for the first four weeks of this season.
At KU, Stanley has had four quarterback coaches in four seasons: Rob Likens, Beaty, Garrett Riley and Doug Meacham.
In two seasons at Virginia Tech, Willis has had one offensive coordinator, Brad Cornelsen, who doubles as quarterbacks coach.
A look at the statistics of Cozart and Willis demonstrates the value of strong offensive lines, sure-handed receivers and proven, stable coaching staffs.
At KU, the two Miege graduates combined to complete 54.5 percent of their passes, average 5.8 yards per attempt and throw 25 touchdown passes and 36 interceptions. Post-KU: A completion percentage of 61.1, 8.6 yards per attempt, 14 touchdowns and one interception.