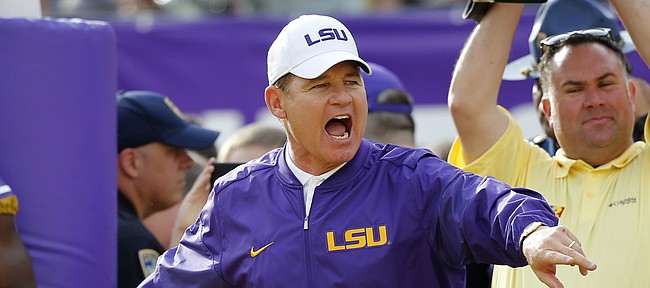 The search for the University of Kansas football program's next head coach may be all but through.
According to a Friday report from Sports Illustrated, KU and former LSU head coach Les Miles are in the final stages of negotiating a deal that would bring Miles to Kansas.
SI's Ross Dellenger reported an announcement could come "as soon as this weekend."
The report stated negotiations between Miles, 65, and KU have "been ongoing this week."
A path for Miles to become the football coach at Kansas — or anywhere — became more clear on Thursday, when he and his former employer, LSU, reached a $1.5 million financial settlement to the buyout that allowed the school to fire him in 2016.
SI reported a deal between Miles and KU is imminent, barring a last-minute change.
When the Journal-World reached out to the office of Jeff Long, KU's athletic director, on Friday afternoon for a reaction to the report, a spokesperson reiterated Long's statement from Nov. 4 that the AD won't comment on the coaching search until the new coach is officially announced.
Long fired fourth-year KU football coach David Beaty with three games left in the season, but decided to keep Beaty in place through the 2018 finale, on Nov. 23.
Since the day Long decided to move on from Beaty, Miles has been considered one of the KU AD's top candidates.
The former LSU and Oklahoma State coach (142-55 in 15-plus seasons) and Long have known each other since they crossed paths at the University of Michigan, in the late 1980s. Miles worked as an assistant coach for the Wolverines, while Long was an assistant athletic director.
The KU football team has failed to win more than three games in a season since a previous regime in the athletic department forced Mark Mangino to resign, following the 2009 season.
This season, Kansas is 3-7 overall, and 1-6 in the Big 12 entering Saturday's game at No. 6 Oklahoma (9-1, 6-1).
In his fourth and final year at KU, Beaty is 6-40 overall as the head coach, with a 2-32 record versus Big 12 competition.