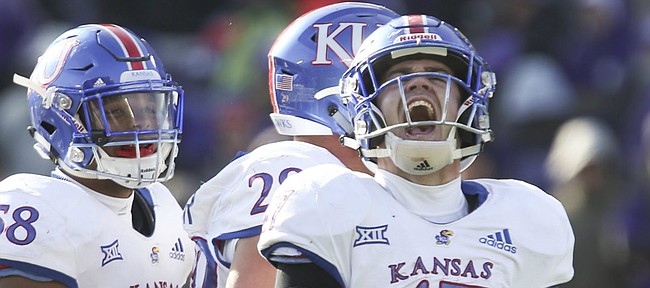 — Kansas (3-7 overall, 1-6 Big 12) at No. 6 Oklahoma (9-1, 6-1) • 6:30 p.m. kickoff, Gaylord Family-Oklahoma Memorial Stadium, in Norman, Okla. • Game-time forecast: 48 degrees, cloudy, 0% chance of rain • TV: FOX • Radio: KLWN, FM 101.7 / AM 1320
— Log on to KUsports.com for our live game blog and follow our coverage team on Twitter: @KUSports, @BentonASmith, @mctait and @SJacksonLJW
Keys for Kansas
1. Play loose
As difficult as this past week's defeat at Kansas State was, the Jayhawks should enter a much greater challenge with their minds at ease.
According to Las Vegas oddsmakers, No. 6 Oklahoma is favored by roughly five touchdowns. No one outside of the Kansas football locker room is expecting the visitors to leave Norman, Okla., with a massive upset victory.
That means the Jayhawks should be able to play without feeling pressure, even though they know that alone won't allow them to knock off OU.
After a wild week-plus, which has included learning David Beaty's exit is inevitable and dropping a winnable game to rival Kansas State, as well as rumors regarding the program's next head coach, playing in a storied venue against one of the nation's top teams should be something they can embrace rather than dread.
The Sooners are coming off consecutive narrow victories and their regular-season finale with fellow top-10 team West Virginia is on the horizon.
If the Jayhawks can just relax and have fun under the lights, it can only help their chances of competing.
2. Recognize OU's weakness
The Sooners are allowing more points per game this season than the Jayhawks — 29.8 for Oklahoma, compared to KU's 28.1. Of course, it hasn't become an incapacitating issue for OU, because it's offense is so potent.
Still, the numbers are a reminder of Oklahoma's defensive issues. The past two weeks in particular, Texas Tech scored 46 against OU and Oklahoma State put up 47.
While that doesn't provide Kansas any guarantees of replicating such production (the Jayhawks have yet to score more than 28 points in a Big 12 game this season), OU's defensive lapses stuck out when KU quarterback Peyton Bender reviewed video footage while preparing for the primetime game.
"All year, I feel like they've been susceptible to some scoring. So we've just got to do a good job putting in a game plan that attacks their weakness," Bender said, "and just taking advantage of those opportunities when we get them. Putting the ball in play and using angles and numbers to attack them."
OU is surrendering 272.4 passing yards per game (115th nationally) this season, as well as 143.6 rushing yards (45th).
3. Don't count out some handshake backlash
While KU's play this season might be reason enough for a top-10 team with the goals of a Big 12 title and College Football Playoff berth still alive to overlook the Jayhawks, the Sooners might have a built-in failsafe to prevent that.
It's likely the Jayhawks' pregame handshake snub of former OU quarterback Baker Mayfield came up around the Sooners' football facilities this week.
Those conjured up memories might make it even more difficult for the Jayhawks to sneak into OU and put up a true fight. And memories of the coin toss scene in Lawrence may inspire some Sooners to hit a little harder when they come across linebacker Joe Dineen and the other Jayhawks responsible for last year's antics.
Know this, though: the captains won't make the same misstep this year.
"Every once in a while I get some tweet about, 'Are you gonna shake their hands?' Yes, we are," Dineen said.
Looking back on it now, KU's redshirt senior linebacker called the whole debacle "probably a stupid decision," for one, because it happened on KU's Senior Day.
"And it was a day for those guys and we kind of stole the show, I guess, but not in a positive light. It reflected negatively on myself and the program and Coach Beaty. It was a pretty bad deal," Dineen added. "If you could go back and do it again, I'd probably stick my hand out and shake his hand. But stuff happens."
Mega Matchup
Kyler Murray vs. everybody
The KU defense is about to take on one of the nation's best quarterbacks.
A Heisman Trophy hopeful, redshirt junior Kyler Murray is averaging 367.8 yards of total offense per game and 3.2 passing touchdowns a game, while completing 70.9 percent of his throws.
Apparently that's just how things go at OU — another season, another phenomenal QB.
"Well, I said it last year. I thought Baker Mayfield was as good a player as I've ever seen," Beaty began in his praise of Murray. "But to have another one that pops up this year that you're sitting here watching the things that he does, and you're like, my word, what a great player."
KU's coach described Murray's speed as amazing.
"He can do so many things with his feet. But, man, his release is phenomenal," Beaty added. "The way he gets that ball out and how accurate he is with it, how strong he is, man, he is just a rare athlete."
The Jayhawks won't stand a chance at OU unless KU's defenders at each level lock in on every snap, and play as cohesive and mistake-free as they have all year. It will take an extraordinary effort to slow down Murray and the OU offense.
Jayhawk Pulse
It's got to be a strange time for KU's players, with the Beaty era all but over and reports of former LSU head coach Les Miles soon stepping in.
Will they play like a distracted team or one hoping to give their current coach a great memory near the end of his time at Kansas?
Or will the Miles news inspire them even more?
Tale of the Tape
KU ….. OU
KU run D vs. OU run game √
KU pass D vs. OU pass game √
KU run game vs. OU run D √
√ KU pass game vs. OU pass D
Special teams √
Prediction
Oklahoma 44, Kansas 20