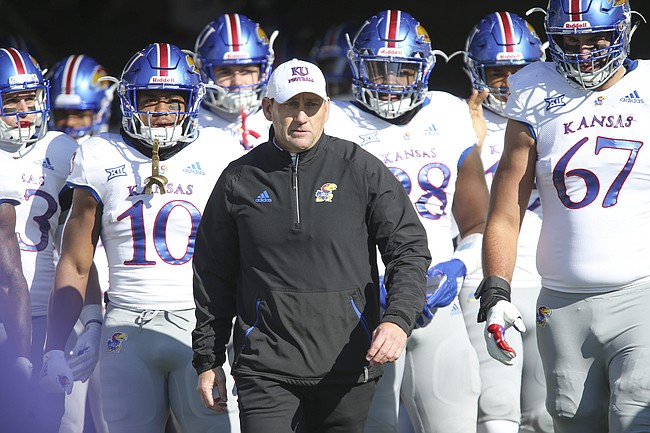 During a weekend in Vegas this past summer, I placed a $5 bet on an electronic horse racing game, and somehow — much to the chagrin of the rest of the bachelor party — managed to win $150 from that short race.
For the rest of the weekend, I took more chances at the roulette table, or at least as risky of ones as a recent college grad with a pile of student debt could be. After all, I was playing with money that I didn't deserve to have.
Nobody would blame Kansas head football coach David Beaty for embracing this type of mindset. Beaty, who was told Nov. 4 that he would not be retained at the end of the season, has nothing to lose and can afford to be more reckless with in-game decisions.
That, of course, wasn't the case against Kansas State during the team's 21-17 loss in Manhattan.
KU entered the Sunflower Showdown with an identical or better record than K-State for the first time since 2009. That's why Beaty was probably the same as he's ever been due to the fact that he believed Kansas had a legitimate shot of notching a win over its in-state rival for the first time since 2008.
But Beaty's conservativeness was one of the key reasons that the Jayhawks were unable to secure that elusive Governor's Cup.
In the first half alone, Beaty faced two fourth downs in the red zone and chose to kick twice, including once inside the five. At the end of the half, Kansas had a chance to kick a field goal or attempt a Hail Mary from K-State's 40-yard line.
Instead of either scenario, the Jayhawks let the clock run out after some miscommunication.
"We weren't going to kick that long of a field goal," Beaty said. "We just felt like it was too rushed, and if we did get that thing blocked, it could have turned into points for them. We had one other option, and at that time, we didn't feel like we had the right personnel to get it done."
Kansas was unable to call a timeout after using all three at inopportune times in the first half. The first one was used when quarterback Peyton Bender tried to audible with the play clock winding down on third down late in the first quarter from the team's 40-yard line.
The second timeout was also used on third down, this time with eight minutes remaining in the second quarter and on the opponent's 18-yard line. The final timeout, however, was burned on first down on the opposition's 13-yard line following a roughing the kicker penalty by Kansas State.
As a result, KU did not have a single timeout during its six-play drive that ended near midfield at the half.
"I don't feel bad about the way that we ended the first half," Beaty said. "We weren't close enough to do any of the things that we would all have loved to have done. So we just tried to play the odds and be smart enough to get out of there without having a turnover."
Early in the fourth quarter, KU also had a chance to extend its three-point lead, but elected to punt on 4th-and-4 from the opponent's 43-yard line.
Those are the types of situations that Beaty has to be more aggressive with during KU's primetime matchup against No. 6 Oklahoma on Saturday, which will be broadcast on Fox.
The Jayhawks, who are considered 36-point underdogs, have not beat the Sooners in this century. Nobody expects KU to have a chance, and Beaty should have nothing holding him back.
Why not, then, bet something other than the color black on the roulette table?