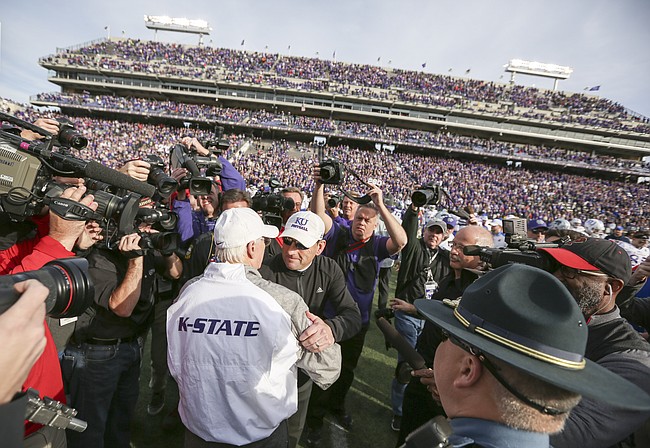 The Sunflower Showdown has featured its fair share of lopsided affairs, particularly this decade.
Since 2010, Kansas and Kansas State have squared off eight different times in football. During that stretch, the Wildcats have won all eight meetings by an average margin of 24.4 points per contest. They have claimed five of those wins by at least 31 points.
Yet, if the last two clashes are any indication, the seismic gap between these in-state rivals appears to be shrinking. Kansas has been within two scores in each of the last two meetings, including a 10-point loss in Lawrence last year.
Kansas State coach Bill Snyder said as much during his weekly availability with reporters Tuesday.
Podcast episode
As the Kansas football program moves on from head coach David Beaty, and athletic director Jeff Long zeroes in on the team's next leader, KU football reporter Benton Smith is joined by Matt Tait and Shane Jackson to discuss the timing of the move, coaching candidates and much more.
"It is competitive," Snyder said. "Very much so. KU has become a competitive football team. They have played some close ballgames this year with very prominent teams."
Entering Saturday's matchup in Manhattan, both programs boast identical records at 3-6 overall and 1-5 in Big 12 play. It marks the first time since 2009 that KU has had a record equal to or better than K-State ahead of the Sunflower Showdown.
In that game, Kansas State claimed a 17-10 win over Kansas in Manhattan. Mark Mangino was in his final year at the helm for the Jayhawks. Since then, the Jayhawks have had three different head coaches, while Snyder has remained a constant on the sidelines for the Wildcats.
"I have so much respect for (Snyder), he does such a terrific job," KU coach David Beaty said. "They have battled in every single game, they have just come up on the other end of it. Those things could go the other way in a heartbeat."
Because of this year's struggles, multiple media outlets have published stories suggesting it is time for Snyder to step down.
"For a guy to be able to give so much to a university and do what he's done, I sure hate to see that," Beaty said. "But we get it when we get into this line of the work. At the end of the day, I understand it is a production business."
Beaty, of course, was told Sunday that he would not be retained following the conclusion of the 2018 season. In three-plus years, Beaty has posted a 6-39 record, including 2-31 against Big 12 teams.
But that is what makes this particular Sunflower Showdown so unique. Despite the Wildcats being considered a 10.5-point favorite by Vegas, the two teams — at least for one year — appear as though they belong on the same football field.
A lot of that has to do with the two murky coaching situations, though the teams also have posted similar numbers throughout 2018. This season, Kansas is scoring 23.6 points per game compared to Kansas State's clip of 21.1. The Jayhawks have not finished with more points than the Wildcats in a single season since 2009.
KU is also beating its in-state counterpart in yards per game, which is also something it has not done in nine years.
As a result, the Jayhawks have a shot at winning their first game in this rivalry since Nov. 1, 2008.
"These seniors deserve to go out with a big win against a rival that they haven't been able to experience," Beaty said. "I don't know if there is any better way that we can honor those seniors."