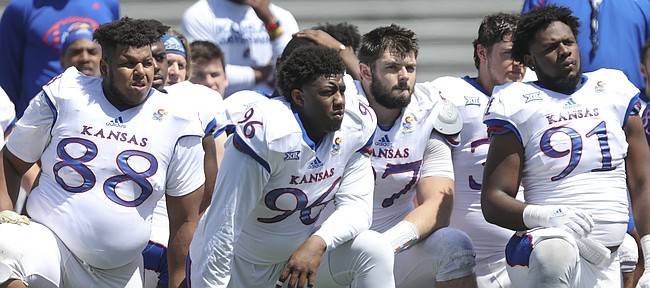 This past weekend proved to be the breaking point for the David Beaty era at the University of Kansas.
It wasn't the first time this season, though, that KU football players dealt with uncertainty regarding the coaching situation on a Saturday night or Sunday morning, in the wake of a defeat.
"We never really looked at it. But there's been speculation all year," redshirt senior defensive tackle Daniel Wise admitted Tuesday. "But that's not really been our focus. Our focus has been winning games."
And now that all involved know Beaty's fate — he'll coach the final three games of his fourth season and then not be retained — his players are taking a similar approach into a completely different set of circumstances.
"It would be nice to send him out on a good note, yes," Wise said, as he and other players addressed the media for the first time since Sunday's news that Beaty will soon be gone. "But just as I said earlier, our objective and our mission and our goal is to win these last three games."
On the day the Jayhawks (3-6 overall, 1-5 Big 12) learned from athletic director Jeff Long in person that Beaty wouldn't coach them beyond the end of the season, redshirt senior linebacker Joe Dineen Jr. said he and fellow senior captains Wise and receiver Jeremiah Booker went to Beaty's office inside Anderson Family Football Complex to speak with him and express their gratitude for him sticking around.
Dineen felt uncertain how these final weeks of November would have played out had Long decided to name an interim head coach or if Beaty declined to remain in place.
"I feel like we're so late in the season, to change a routine may be less beneficial," Dineen said. "But, yeah, I'm just glad it's going to stay the same for now until the end of the season."
It's been an emotional few days for Beaty, and Tuesday was no different. During his weekly press conference, the fourth-year head coach had to measure his words on several occasions as he tried not to get too choked up, especially while thanking numerous members of the program's support staff.
Beaty thought his players and coaches struggled at times to power through "a tough few minutes," when he met with them Sunday, after learning Long's plan. Still, he described the players' approach amid the circumstances as "very, very professional" since then.
"We just basically talked about how it's football and it's about toughness, and we simply have a job to do, and all of our goals are still in front of us," Beaty said. "And I just expressed how excited I was to still be able to be with them, because they're going to accomplish those goals, which I'm excited about, and they're excited about it, too. I know they're excited about playing in this game (Saturday at Kansas State), and they know that we're getting a little bit better every week. So we got to continue to do that."
When the Jayhawks practiced Monday, and got on a football field for the first time since their 27-3 loss to Iowa State, Beaty felt proud watching their bounce and focus.
According to Dineen, the energy on display was "as good, if not better, than most weeks" for a Monday session, which is shorter than others.
"I think we're going to have a really good week of practice," Dineen predicted, ahead of a Sunflower Showdown with rival K-State (3-6, 1-5), in Manhattan.
That, too, struck an emotional nerve with Beaty.
"These dudes are studs. I mean they are ready to go and locked in," the outgoing KU coach said before fighting back some tears. "I'll miss them."