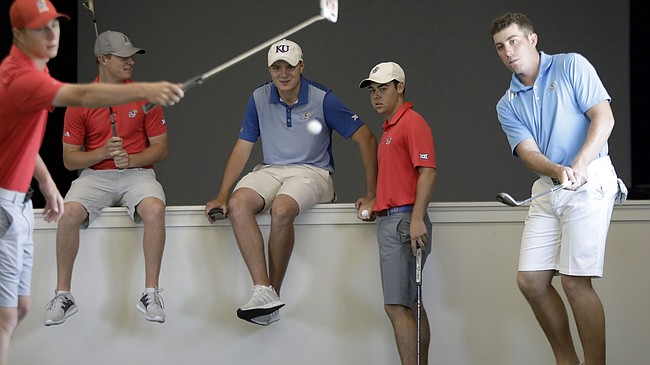 Other than sophomore Andy Spencer, the University of Kansas golfers had not played a round on Karsten Creek, Oklahoma State's home course and site of the NCAA golf finals, until today's practice round.
Spencer played in the three-day Ping Invitational, an American Junior Golf Association event, in October of 2015, when he was a senior at Shawnee Mission East. He was tied for seventh heading into the final day and finished 22nd.
The Jayhawks began studying up on the Tom Fazio-designed course, born in 1994, shortly after winning the Pacific Regional in Stockton, Calif.
The women's NCAA Championship, also played at Karsten Creek, ended Wednesday with Arizona being crowned national champions.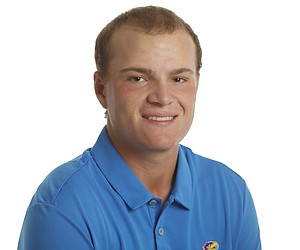 "We were watching women's golf on TV (Monday), and Andy was telling us how some of the holes are," senior Daniel Hudson said. "And coach (Jamie Bermel) had sent us a document with notes on every hole."
Still, there's nothing like playing it.
"I think driving the ball is going to be a real key this week," Spencer said. "Off the fairways, the stuff's almost unplayable. The fairways are pretty generous, but if you miss the fairways, you're almost chipping out sideways. And there are big, undulating greens, so three-putt avoidance will be another key."
Fazio is noted for designing extremely challenging golf courses, and Lake Louise, which comes into play on several holes, is one of the many factors that can contribute to high scores.
"The course fit us," Bermel said of The Reserve at Spanos Park, where KU won the regional. "We're going to get more wind, zoysia fairways and bentgrass greens, so hopefully we can respond."
Kansas made it to the NCAA tournament regional round in eight times in Ross Randall's final 10 seasons, then endured an eight-year drought, and has made it three years in a row under Bermel, the sixth-year KU coach.
This is the Jayhawks' first appearance in the NCAA finals since 2000.
KU is in the final group, with players from BYU and North Carolina, and begins teeing off on No. 10 at 2:10 p.m. Friday.
In order of their slots on the team, Spencer, Daniel Sutton, Charlie Hillier, Hudson and Harry Hillier will compete for the Jayhawks.