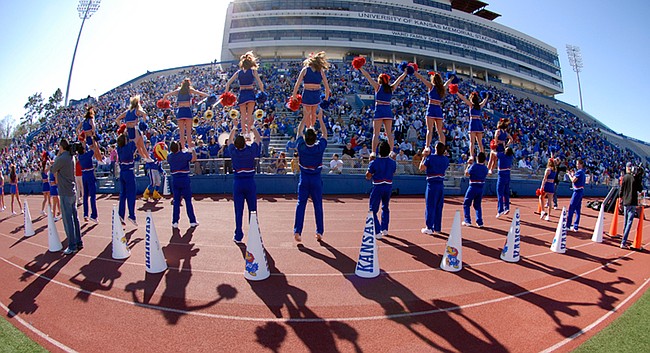 The University of Kansas' Cheer Team has been placed on probation for a year because of at least one incident of hazing and action that harmed people, the university has confirmed.
Reportedly, the incident involved female cheerleaders being asked questions and then being told to remove an article of clothing when they answered incorrectly, according to a report in the Kansas State University student newspaper, which was based upon two anonymous sources who were on the team.
The anonymous sources said the incident ultimately ended up with cheerleaders being nude or partially nude and that at least some of the cheerleaders were seen by males who were in the house where the incident allegedly took place.
The Journal-World was not able to independently verify the accusations, which have since become the subject of national media coverage from The New York Post, Deadspin, Yahoo Sports and other outlets. However, the Journal-World did ask a spokesman for Kansas Athletics whether the department had any information that would lead it to believe any of the alleged incidents actually occurred.
Jim Marchiony, an associate athletics director for KU, confirmed an incident had occurred with the cheer team, but said there was very little the department could say about the incident because of privacy concerns.
"Once an incident with our cheer squad (not dancers) was reported, protocols to notify the university were followed immediately," Marchiony said via email, clarifying that the allegations involve only the cheer team and not the dance team that is also part of the department's Spirit Squad. "In addition to the steps taken by the University, Kansas Athletics imposed restrictions, additional education and punishment. No form of hazing is acceptable, and we believe this has been dealt with appropriately."
The university's latest Organizational Conduct Status Report does list that the KU Cheer Team was put on probation on Sept. 21, 2017 and that it will remain on probation until Sept. 26, 2018. The document lists three violations of the University's Code of Student Rights and Responsibilities: organizational responsibility; harm to persons; and hazing.
The article in The Collegian at Kansas State alleges the incident took place on July 25, 2017. It alleges that six first-year students of the team were victims of the hazing. Two sources came forward to speak for the article, but did so only on the condition of anonymity out of fear of repercussions, the newspaper reported.
The article describes the alleged hazing as part of an initiation led by other members of the team. The article reports that the two women who came forward were dissatisfied with how coaches of the KU Cheer Team handled the incident once they were made aware of it.
Marchiony, in his emailed response, did not answer a question from the Journal-World about whether any coaches had been disciplined as a result of the incident. Marchiony also did not answer a question about whether any team members had been dismissed from the squad.