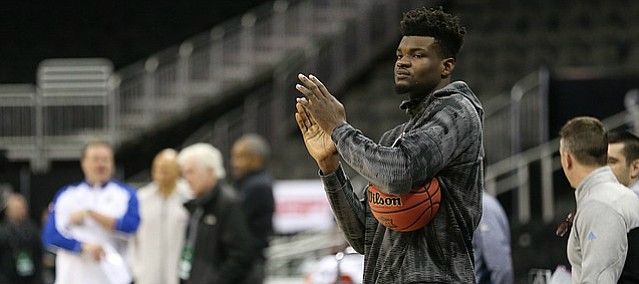 The Kansas men's basketball team's road in the 2018 NCAA Tournament got off to an early and positive start on Sunday, a few hours before this year's bracket was revealed.
Sure, it was exciting for Bill Self's Jayhawks to learn that they had been named a No. 1 seed for the third consecutive season and eighth time in 15 years under Self. But the more exciting part of Sunday came earlier when injured center Udoka Azubuike continued to make great strides toward returning to the court this week.
Azubuike, who missed all three of KU's Big 12 tournament games after suffering a Grade 1 sprain of his medial collateral ligament in his left knee, was back on the court Sunday, making notable progress from the stationary bike workout that had left the Jayhawks encouraged during the two previous days.
"He's doing good," Self said Sunday night. "He did a workout on the court today. It was a 1-on-0, it was very, very light, not anything that would tell us that he's going to practice tomorrow or anything like that. But his recovery that he's made so far has been even (better) than what the doctors and trainers originally thought it would be. So we're very, very optimistic that we could have him this weekend."
Self did not say whether the goal was to get Azubuike back in time for Thursday's Round 1 game against Penn or Saturday's second-round game, should the Jayhawks get there.
"With this type of injury, 48 hours makes a big difference," Self noted. "So we're hopeful that he can play some on Thursday and if we're fortunate enough to advance, we're more confident that he could be used on Saturday."
Added senior point guard Devonte' Graham when asked about Azubuike's status: "He said he's feeling good, so hopefully we'll have him Thursday."
Asked if Azubuike would need to be 100 percent before he put him back on the floor, Self said that would be up to team doctors.
"I don't know that he can be 100 percent," Self said. "There's a lot of guys that sprain an ankle that are not 100 percent but still play because there's no further risk of hurting it, it's just sore. So that would be the doctors' call, certainly not mine."
Self added that the weekend emergence of freshman Silvio De Sousa as a viable option in pressure situations made the whole process easier to navigate.
"We wouldn't put him out there before he's ready anyway," Self said of Azubuike, before discussing possible starting options if Azubuike remained out.
"I want to wait to see how that plays out. Silvio does not deserve to start ahead of Mitch (Lightfoot), based on what Mitch has contributed to us all year long. But it may be better for our team if he does. But I've got to watch tape and see how practice goes on Monday and Tuesday first."
Big 12 bummer
A few days ago, the talk surrounding the Big 12 Conference's bids in this year's NCAA Tournament centered on the number 90 percent, as in nine out of 10 Big 12 schools possibly making the field.
On Sunday, the bubble burst for Baylor and Oklahoma State, leaving just seven Big 12 teams in this year's field of 68. Slumping Oklahoma made it as a 10 seed. Texas Tech is in as a 3 seed. And West Virginia (5), TCU (6), Texas (10) and Kansas State (9) joined Kansas in Sunday's bracket.
"I really felt like seven was what we'd get, especially after Davidson won and San Diego State won the Mountain West," Self said of two tourney teams that stole potential at-large bids from others by winning their conference tournaments this weekend. "I am disappointed for our league, knowing that nine teams could've got in and we got seven."
No Border War revival
With Kansas looking like a No. 1 seed and Border War rival Missouri sitting on the 8-9 line, the potential existed for the NCAA Tournament Selection Committee to set up one heck of an interesting second-round matchup between Kansas and Mizzou, should both teams advance.
It didn't happen. The Jayhawks got the top seed in the Midwest and the Tigers were seeded eighth. But they landed in the West region. As a result, the only way the two teams could face each other now is in the national championship game on April 2.
"Obviously, if we were a 1, it'd be a one-in-four chance that we could be playing Missouri," said Self, replaying his own research of potential seeding heading into Sunday. "And also I felt like it'd be a one-in-four chance we'd be playing Wichita State, if we were to advance, because I felt like they'd be on the 4 line. Those are things that all coaches try to guess and certainly I thought that was a possibility."
KU in Wichita
Although none of them have come under Self, KU is 4-0 all-time in NCAA Tournament games in Wichita.
The Jayhawks' first tournament games in Wichita came in 1971 at Wichita State's Levitt Arena, where the Jayhawks defeated Houston, 78-77, and Drake, 73-71, to advance to the Final Four in Houston.
In 1981, KU returned to the Levitt Arena and knocked off Mississippi, 69-66, and Arizona State, 88-71, in the Midwest Sub-Regional.
This and that...
Kansas is making its 47th NCAA Tournament appearance and has an all-time record of 103-45 in the event... The Jayhawks have advanced to 30 Sweet 16 contests, 14 Final Fours and three of their five national championships have been in NCAA Championship format (1952, 1988, 2008)... KU's 29-consecutive NCAA Tournament appearances, a streak that began in 1990, is both the longest active streak and the NCAA record for most consecutive trips to the NCAA Tournament.