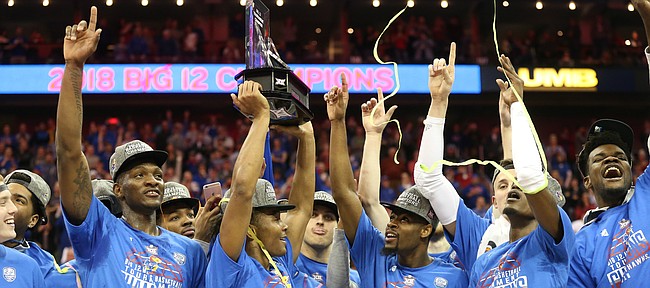 Kansas City, Mo. — You know you had a big night when the man who was named the most outstanding player of the tournament your team just won said he would give you the MVP trophy if he could.
That was the reality for high school standout-turned-key Kansas Jayhawk Silvio De Sousa on Saturday night, moments after his 16-point, 10-rebound double-double helped the top-seeded Jayhawks capture the Big 12 tournament crown at Sprint Center with an 81-70 victory over third-seeded and 18th-ranked West Virginia.
Seated in front of his locker with the net draped around his neck, KU sophomore Malik Newman, who torched that very same net for 6-of-8 shooting from 3-point range in Saturday's victory, gushed about the KU freshman who fought toe-to-toe with West Virginia big man Sagaba Konate, outdoing him in overall production in five fewer minutes.
"If I could, I would give him the award," said Newman, whom KU coach Bill Self called "an All-American type guard this weekend" after watching Newman hit 20 points for the third game in a row. "But he was the runner-up in my eyes."
Photo Gallery
Kansas basketball v. West Virginia (Big 12 Tournament championship)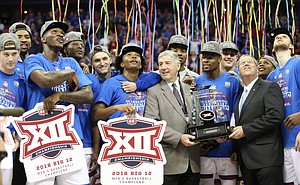 View a gallery of images from Saturday's Big 12 Tournament championship game between the Jayhawks and Mountaineers at Sprint Center.
For that, De Sousa, who started the second half of Saturday's victory and played a career-best 26 minutes, received two extra pieces of the net that Newman was wearing.
Consider it a party favor from one suddenly exploding Jayhawk to another.
Asked to put a number, on a scale of 1 to 10, on where De Sousa started the weekend and where he ended it, Newman said: "I think he went from a 5 to a 12. I mean, I think he played great. Without Silvio, I don't think we win tonight."
Asked to grade his own growth, from the slow start to the season to the moment he tossed that net around his neck, Newman again chose to praise De Sousa.
"I started off low," he said. "I mean real low. But I think I'm somewhere up there with Silvio. At least I hope I am. He played incredible this weekend."
De Sousa proved so valuable in this one that Self, when talking about his freshman's monster night after the win, gave his young power forward the Devonte' Graham treatment.
"We couldn't take him out," Self said.
The reason? His numbers had something to do with it. But it was more the way he played that made De Sousa so valuable. And that came as a direct response to a challenge from Self at halftime.
"He called me soft," De Sousa said of Self. "He said, 'You're playing soft right now.' And I just took that as motivation to play even harder."
After the game, Self was singing a slightly different tune.
"I think he just said, 'Silvio, you're a stud,'" De Sousa said. "And I think I agree with him and I proved to him that I can play in the second half."
Konate also provided a little motivation for De Sousa, who did his best to keep up with the West Virginia big man in the scoring column, on the glass and in the trash talk game.
"I usually don't talk that much on the court," said De Sousa, who also showed more outward emotion because of how badly he wanted to win this one for his teammates. "But today I had to. I wanted this game tonight so bad and I had to talk my stuff. … And I think I won the trash talk battle."
De Sousa was far from the only Jayhawk who contributed to Saturday's victory. Newman's timely shots were as clutch on Saturday as they were all weekend. For the tournament, the sophomore from Jackson, Miss., tallied 72 points (24 per game) on 15-of-22 shooting from 3-point range.
Podcast episode
Kansas basketball coach Bill Self, as well as All-Big 12 tournament honorees Malik Newman and Devonte' Graham, explain how the Jayhawks emerged from a heated conference title game as 81-70 victors over West Virginia.
Graham added 18 points and 13 assists (giving him 30 for the weekend) in 40 minutes. Svi Mykhailiuk hit 4 of 8 3-point shots for the second night in a row to log 16 points. And Lagerald Vick dropped in 10 points and five rebounds in 35 minutes. Outside of the five Jayhawks who reached double digits in scoring on Saturday, Kansas (27-7) got just one more point — a free throw from Marcus Garrett.
It hardly mattered. Despite trailing the Mountaineers (24-10) for more than half the game for the third time this season, the Jayhawks delivered when it mattered most, using two separate 10-0 runs to erase big WVU leads and pull them back from the brink of watching the game get away from them.
Graham, as you might've guessed, was a big reason for both runs, setting up teammates to perfection during one of them and knocking in 2 of his 3 3-pointers on the night in the other.
"When we went down eight, that's when Devonte' took over," Self said.
And in doing so, he turned a 51-43 deficit into a 53-51 Kansas lead.
The Jayhawks' lead eventually grew to as many as seven on another Graham 3-pointer with 3:57 to play. And, from there, as the Sprint Center crowd roared and the Mountaineers clanged shots and ultimately conceded, the two daggers were as fitting as they come.
The first, on offense, was an alley-oop pass from Vick to Mykhailiuk that featured Self screaming at Vick to slow the ball down and, in the same breath, changing his tune to yell, 'Yeah!' after Mykhailiuk flushed the dunk.
The second, on defense, came from Newman, who darted in front of a lazy WVU pass with just more than a minute to play and put an end to any idea of a West Virginia comeback.
"We haven't had the best run of luck here of late," Self said. "And with Dok (Azubuike) going down (with a knee injury on Tuesday), (we wondered) can we even win without Dok? Not only did we prove we can win without him, we proved we can play at a really high level. Today was probably as high a level as we've played at in a long time."
So high of a level, in fact, that Self called it the best Big 12 tournament game he's been a part of since that thrilling victory over Texas in the 2008 title game.
"I loved the game," Self said. "Even if we hadn't won, I would've loved coaching in that game because I thought we competed our butts off. And I thought they did too."
No one illustrated that better than De Sousa, who entered the weekend as a question mark and a dim beacon of hope for a team with Final Four aspirations.
As he took the scissors from Mykhailiuk and made his climb up the ladder to get a start on that net on which Newman snipped the finishing touches, De Sousa looked like a bona fide star. The KU band chanted, "Sil-Vi-O, Sil-Vi-O," and the 6-foot-9 forward from Angola stood tall, raised his first piece of net high into the air and smiled like a man on top of the world.
"For a player that just came out of high school three months ago to be able to cut the nets for the Big 12 championship is a great feeling," De Sousa said. "I can't describe it."