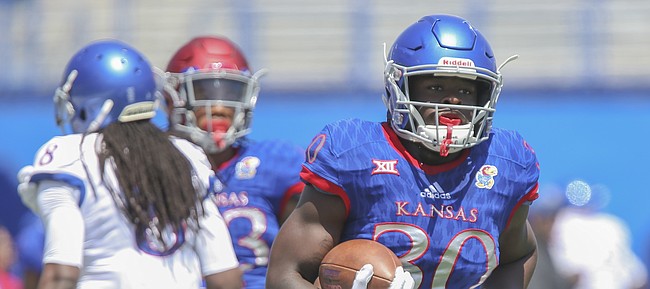 If everything goes according to plan, the Kansas football offense should have an abundance of running backs to deploy this coming fall.
Each of the Jayhawks' top three rushers from 2017 — Khalil Herbert, Taylor Martin and Dom Williams — return. Plus, KU added four-star Louisiana recruit Anthony "Pooka" Williams to its roster.
An entirely different, unsung running back, though, left an impression on the team's linebackers during spring practices.
Junior Kezelee Flomo, who played his first two seasons of college football at North Dakota School of Science, surprised some of the players charged with tackling him.
"I remember coming downhill one time and popping him," senior Keith Loneker Jr. recalled, during a recent appearance on 1320 KLWN's Rock Chalk Sports Talk, with Nick Schwerdt. "And that dude brought the wood a little bit. I was like, 'OK. We haven't seen much of you yet.' So, yeah, that dude will bring the wood and he's a hard worker, too."
Listed at 5-foot-10 and 215 pounds, Flomo might prove to be the toughest KU running back to bring down to the turf. Sophomore Kyron Johnson likened him to a bowling ball.
"We're the pins," Johnson said of defenders. "You see him coming through, it's best to get out of the way."
While Johnson described Flomo as cool and funny off the field, he said the running back from Fridley, Minn., takes on a different, business-like persona at practices.
"He is a force to be reckoned with. He is someone who will really run you down into the ground," Johnson affirmed.
Hampton more confident
Looking back at his true freshman season, KU receiver Quan Hampton realizes now he really had no idea what awaited him playing at the college level.
The 5-8, 178-pound passing target started all six games in which he played, getting "thrown into the fire" in 2017.
"I didn't really know a lot about defense, and everything was fast to me," Hampton said. "Now I took the time to learn about all the different types of defenses. So now the game is a lot slower to me. I feel like I'm ahead."
Though he missed six games due to injury in his debut season, Hampton finished the year with 21 catches and 145 yards.
Player-organized workouts
Every Saturday during the summer the Jayhawks gather for workouts that they both coordinate and lead, in the absence of coaches.
The sessions are officially voluntary, but senior safety Tyrone Miller Jr. said they might as well be mandatory, considering how the players prioritize the workouts.
"People are going to show up on Saturdays," Miller declared.
The veteran defensive back said maybe one or two players miss each weekend due to a family event or something out of their control.
If someone were to skip the workout without cause, though?
"You're gonna hear it all day that Monday when you come back in," Miller said.