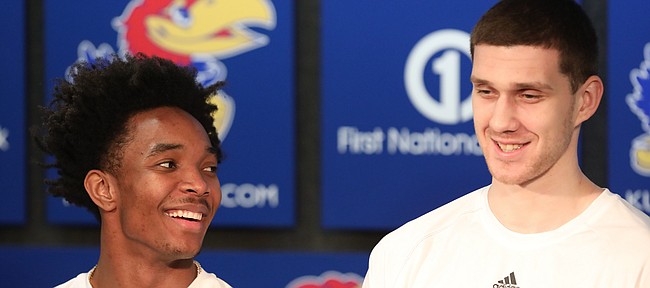 Forever linked during their KU careers thanks to their close friendship, sweet shooting strokes and ability to lead Kansas to a lot of victories during the past four seasons, Devonte' Graham and Svi Mykhailiuk delivered one final act together as Jayhawks on Thursday night by becoming second round picks in the 2018 NBA Draft.
Fellow-draft hopefuls Malik Newman and Billy Preston went undrafted and will now have to begin their careers as free agents.
As predicted by most mock drafts throughout the past several weeks, Graham became the first KU player selected in the 2018 NBA Draft on Thursday night, when the Atlanta Hawks picked him with the fourth pick of the second round, No. 34 overall.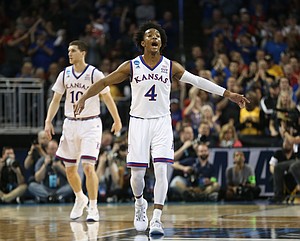 Graham, who spent most of the 2017-18 season following in the footsteps of former KU point guard Frank Mason III, was picked No. 34 just like Mason was one year ago by the Sacramento Kings. Shortly after the pick was announced, Graham's rights were traded to Charlotte, giving the 6-foot-2 point guard from Raleigh, N.C., the opportunity to begin his pro career in his home state for a team run by the man many believe is the greatest basketball player of all time in Michael Jordan.
"I don't know that there's more pressure playing in Charlotte than there would be playing in Chicago or playing in Dallas," KU coach Bill Self said during a post-draft conference call. "I don't think playing in his home state would do anything other than be a benefit to him. And what a thrill for a guy to be playing for a franchise that Michael Jordan is basically running. I think it'll be great. I don't see the extra pressure because Michael chose him. I don't see that at all. I see that as extra motivation. And if you know Devonte's make-up, I think he'll see it that way, as well."
Graham was selected right after West Virginia's Jevon Carter went No. 32 and Villanova's Jalen Brunson went No. 33, giving the draft a senior-heavy, big-time winners vibe right in the middle.
"These guys are not all just winners," ESPN analyst Jay Bilas said during the broadcast. "They're all champions."
Throughout the past several weeks, after making a trip to the pre-draft combine in Chicago in mid-May, Graham participated in individual workouts with nearly half of the teams in the league, traveling every couple of days and getting an early taste of the intense demands of NBA life.
Projected by most as a candidate to compete for a backup point guard role on an NBA roster, Graham fully transitioned to the facilitator role during his senior season at KU, when he averaged 17.3 points, 7.2 assists and 4.0 rebounds per game in 37.8 minutes.
A career 41 percent 3-point shooter with the Jayhawks, Graham always was considered a strong shooter and, both throughout his career and during his workouts in preparation for the draft, he expanded his range and quickened his release, both traits that should help his chances of sticking in the NBA.
"He could care less where he's going," Self said of Graham. "Just the opportunity to be in it is terrific for him."
That was not exactly the case for Mykhailiuk, who, according to reports during recent weeks, had one of the best individual workouts the Lakers had seen in recent years and hoped from that moment on that he would soon return to Los Angeles to begin his career.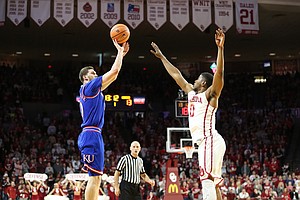 "That's where he wants to go," Self said of the 20-year-old, 6-foot-8 sharp-shooter from Ukraine. "He wants to go to L.A."
Self said he and his staff had been in contact with someone from nearly every NBA team during the past few weeks. So neither player landing where he did was a surprise.
"There was a little bit of communication with L.A.," Self said. "And we knew Devonte' was going to get picked right around there."
What was a surprise, or at least a disappointment, was the fact that Newman and Preston went undrafted.
"People told us that Billy was all over the board," Self said, again reiterating that most everyone had told him that Preston was a first-round talent. "But I'm really disappointed for Malik. This isn't what we expected, but the fit is more important than the number, without question, and we talked about that with his dad today. The bottom line is you'd rather be in the right situation than you would going for the number. From a pride standpoint, everyone wants to hear their name called, but for actually making the team it's more important to have the right fit and now he gets to choose where he goes to summer league and that kind of stuff.
"I don't think it's awful. I think it's probably very disappointing for those two, particularly for Malik."
According to a late Thursday report from Yahoo Sports insider Shams Charania, Newman after the draft agreed to a two-way contract with the Los Angeles Lakers, which will give him an opportunity to play in both the G League and the NBA while having a little bit more of a stable financial situation at the outset of his pro career.
Graham and Mykhailiuk becoming draft picks give Kansas 82 all-time draftees, including 24 in the 15-year Bill Self era. The 2018 draft marked the eighth time under Self that the Jayhawks have had multiple players selected in the same draft.