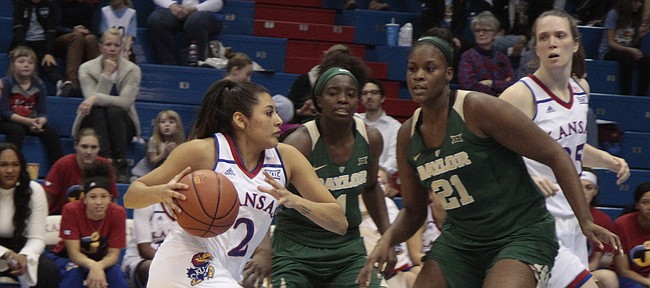 For the first four minutes of the Kansas women's basketball team's 83-48 loss to No. 6 Baylor, the Jayhawks went possession-for-possession with the Big 12 powerhouse on Saturday at Allen Fieldhouse.
On the Jayhawks' first two possessions, Kansas junior Austin Richardson knocked down 3-pointers after Kylee Kopatich and Brianna Osorio drove into the teeth of the Baylor defense before kicking out for the open triple. Junior Christalah Lyons added five early points by attacking the rim, and the Jayhawks owned a 13-12 lead.
The Bears proved to be too much to handle for the Jayhawks, though. The Jayhawks (11-4 overall, 2-2 in Big 12 play) had a scoreless drought of more than five minutes after their hot start, and Baylor blitzed them with a 13-0 run and never looked back.
"Baylor obviously (is) a very, very difficult team to defend — in particular in the paint. I think they were averaging over 50 points a game in the paint against Big 12 competition," Kansas coach Brandon Schneider said. "We set some goals to try to feel like we could be competitive. We either achieved some of those goals or we weren't far off. We didn't really make enough shots on the offensive end to stay in the game."
Photo Gallery
KU women vs. Baylor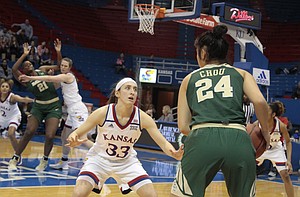 The Kansas women's basketball suffered a 83-48 loss to No. 6 Baylor on Saturday at Allen Fieldhouse.
A big part of Baylor's success inside revolved around 6-foot-7 junior center Kalani Brown, who poured in a game-high 22 points for the Bears. Brown set the tone down low by drawing the first foul on KU freshman big Bailey Helgren just seven seconds in. Helgren and Richardson were both saddled with two fouls in the first quarter, which forced Schneider to go to his bench early and often.
"We wanted to hold them below 40 points in the paint. We achieved that goal, but we wanted to keep them off the line, and that's where we really struggled," Schneider said. "They're hard, hard to keep off the line. They're a hard team to officiate. I think anytime you have a player of Kalani's caliber in particular in the low post, it's a challenge."
While Brown was a load to handle for the Jayhawks down low, she had plenty of help, too. The Bears had five players score in double figures between Brown, Dekeiya Cohen (15), Lauren Cox (11), Kristy Wallace (11) and Natalie Chou (10).
"I know I'm going to get double-teamed and sometimes triple-teamed, so I guess I'm getting kind of used to it now," Brown said. "But I know I can kick it out to our shooters and Natalie or Juicy (Landrum, eight points) will knock it down. It's kind of an inside-outside game that we've got going."
Lyons and Osorio ended up doing the bulk of the damage for the Jayhawks by scoring 15 and 12 points, respectively. Lyons credited the Jayhawks' mind-set for their quick start.
"We was just ready to play," Lyons said. "I feel like the energy took over, so we were very hyped and ready to play."
Kansas only made one more 3-pointer after Richardson's back-to-back treys to begin the game. Both teams cooled off from beyond the arc after torching the nets in the opening minutes. Kansas shot 3 for 23 from deep, while Baylor made 4 of their 20 3-point attempts.
"They started to come off of us and basically like dared us to shoot the ball a little bit," Lyons said. "We didn't knock down some of those shots."
The Jayhawks will go up against another nationally-ranked foe at 7 p.m. Wednesday when they welcome No. 12 West Virginia to Allen Fieldhouse.