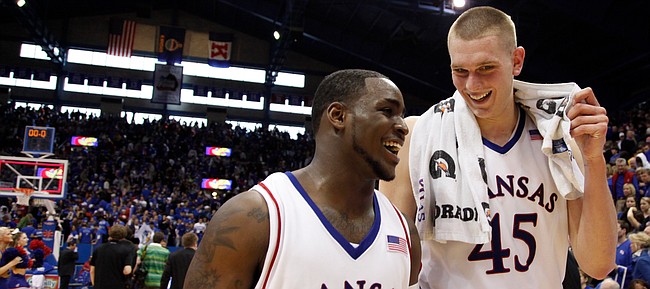 When former Kansas guard Sherron Collins first heard that KU had plans to retire his No. 4 jersey into the Allen Fieldhouse rafters during the 2017-18 season, he had just one request.
He wanted to do it on a day when his good buddy and former KU teammate Cole Aldrich could attend.
It only made sense then to do them three days apart, with Aldrich having his No. 45 jersey retired on Saturday and Collins' No. 4 jersey following suit two nights later.
"It's special," said Aldrich of the depth of the relationship between Jayhawks from different worlds. "Sherron and I, I kind of always think of (us) like Hinrich/Collison."
Kansas coach Bill Self, who said the two jerseys were scheduled to be retired three days apart because of Aldrich's availability over the NBA's All-Star weekend, viewed the dynamic duo a little differently.
"They were kind of Batman and Robin," Self remembered. "Cole won't like hearing this, but if that's the case, Sherron was definitely Batman and Cole was a sidekick. Sherron pretty much ran things here his last couple years."
There were days, however, when it was Collins who needed someone to lean on. And more often than not, Aldrich was his shoulder of choice.
"My junior year against Dayton, I wasn't feeling too good," recalled Collins of the second-round NCAA Tournament game in which Aldrich recorded KU's first official triple-double. "I was nervous, had some things going on back home and normally I'm the guy that's bringing everyone together, calming everyone down. … He kind of rallied me and I think he saw that I needed that. I knew then that I was OK. I wouldn't say Batman and Robin, but I knew that, my boy, he had my back."
No one remembers the exact day that Collins and Aldrich first met. But it's hard to imagine that anyone at that point could have predicted the two becoming so close and both having their jerseys retired in Allen Fieldhouse just three days apart.
"Country kid, city kid," said Collins Thursday, two days before Aldrich's No. 45 jersey is retired at Allen Fieldhouse and five days before his own No. 4 jersey goes up with it. "We meshed. That's my brother forever. I'll always have high respect for that guy."
The connection between Aldrich and Collins went beyond the brotherhood that comes from playing together at Kansas. For decades, dozens of Jayhawks have felt — and still feel — the bond that comes from playing for one of college basketball's pristine programs, but few have done it the way these two did.
Role players on KU's 2008 national championship team, the tall kid from Minnesota and the smooth guard from the streets of Chicago were the only thing left from KU's title team. Instead of letting the program slip, Aldrich and Collins elevated it, teaming up to deliver two monster seasons in 2008-09 and 2009-10.
In addition to leading the Jayhawks to back-to-back Big 12 titles — therein keeping the current streak alive — Aldrich and Collins delivered 60 victories in 71 starts together and both earned All-American and all-Big 12 honors.
Whether it was pick-and-roll on the perimeter or crashing to the rim to score a key basket, Aldrich and Collins were as linked as the basketball court as just about any other pair in KU history.
That's what makes them sharing the showcase weekend seem like such an obvious fit.
"Perfect," Collins said. "Seemed like no better time."
Added Aldrich: "It was kind of us against the world. Everybody had left and it was pretty much him and I and we relied on each other so much and became really close because he was a guard and I was a big and we were trying to do everything we could to win games. Fighting with him through all those tough games and the ups and downs, to win another conference title stuck with us and the fact that we were able to accomplish that was incredible."
"To be able to spend the weekend, having my jersey and his jersey and then our 10-year anniversary (of the 2008 national title), it's going to be so much fun."
For Collins, who recently moved back to Lawrence to raise his family and move into the next chapter of his life, the idea of seeing his name and number go up in the Fieldhouse is still a bit mind-blowing.
"Probably the biggest (moment) since we won the national championship, so it's right at the top of my list," he said. "The moments I had here were the best moments of my life. I'm from Chicago. I never thought, where I come from, that I could have this much impact on a university, let alone a community. Somebody named their child after me here."
For Aldrich, who also has continued to make Lawrence an important part of his life with camps and charity endeavors, the idea of his name and number sitting next to so many KU greats still does not yet seem real.
"It's a huge honor," he said. "So many emotions that ran through my mind and my body when I found out my jersey was going to be retired. Even when I go back during the summer time I kind of look up and you see Nick Collison, Paul Pierce, LaFrentz, Jo Jo White; you see all those names and it's still hard for me to comprehend that I'm at that level too because I think of those guys as legends."
---
---
---