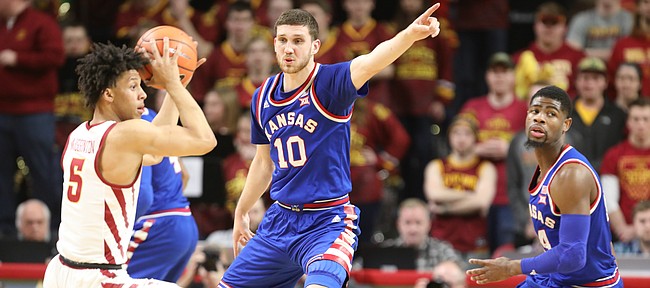 Kansas senior Devonte' Graham needed just three words to describe the improved effort and extra energy that sophomore guard Malik Newman played with during the Jayhawks' 83-77 road victory at Iowa State on Tuesday night.
"It's a bonus," said Graham, complimenting his running mate, who finished with 17 points on 6-of-10 shooting but did some of his best work away from the ball. "Anybody playing like that, we need everybody to be aggressive."
Newman's big offensive night, which showed up big time during the game's final few minutes when he scored both in close and from distance, appeared to be the product of the 6-foot-3 shooting guard plugging himself into other elements of the game at other parts of the floor better than he had during the past couple of weeks.
Photo Gallery
Kansas basketball v. Iowa State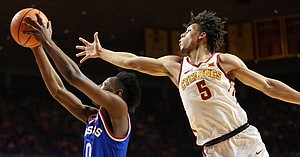 View a gallery of images from Tuesday night's game between the Jayhawks and Cyclones at Hilton Coliseum.
He finished with six rebounds — moving him into second place on the team behind Udoka Azubuike, with 133 on the season — added four assists and swiped one steal. Perhaps his biggest impact came while harassing ISU freshman Lindell Wigginton into a 3-of-12 shooting night and holding him 15 points below the 27-point explosion the talented guard dropped on Kansas at Allen Fieldhouse a month ago.
Notorious for being closer to the bottom of the chart that tracks KU's hustle points — deflections, steals, dunks, floor burns, etc. — Newman, who was back in the starting lineup after a one-game hiatus, no doubt finished Tuesday night closer to the top.
Asked about his performance beyond his point total, Newman said he felt he played "much better" in other those other areas and added, "And I think my energy brought energy to the other players on the floor so that's always a good thing."
It's possible it was purely coincidental, but junior guard Lagerald Vick seemed determined to match Newman hustle point for hustle point in the Jayhawks' latest victory.
With just five games to play in the Big 12 race and Kansas sitting a game behind Texas Tech for first place in the standings, Newman said that closing in on the end of the season may have added a little urgency to Tuesday's effort.
"In a way," he began. "We know that it's getting crunch time and we know that we need all our players to come out, be aggressive and play. And that's what we did tonight."
Asked if the added intensity was a particular focus of his for Tuesday night, Newman pointed to a changing mindset.
"It's kind of a focus every night," he said. "But tonight we just knew we had to do it. It's something that we've really been emphasizing and stressing in practice and we just wanted to come out and have the same intensity we've been having in practice."
Graham, who suffered through a 3-of-16 shooting night but still had his finger prints all over the game — 13 points, six rebounds, five assists and zero turnovers in 40 minutes — gave Newman high marks for his aggressiveness on Tuesday.
"He's trying to get his nose dirty and get into the paint, just to make plays for others and himself," Graham said of Newman. "He's doing a good job of straight-line driving to the basket and getting and-ones and stuff."
If that continues and remains the product of Newman and others — particularly Azubuike and Lagerald Vick — turning up their game all over the court instead of just with the ball in their hands, KU coach Bill Self's desire to keep his best players on the floor as much as possible down the stretch becomes much easier.
"Tinkering's probably not the right word," Self said this week, when asked about the challenges of figuring out the right lineups. "I don't think we've tinkered at all. It's more of a situation where we've made some decisions to do some things based on effort in practice or whatnot.
"I know what's best for our team. What's best for our team is to have our five best players out there playing the vast majority of the minutes. That's what's best for our team. But it just hasn't played out that way in league play consistently. Hopefully we'll get it together."
Tuesday's victory certainly looked like a step in that direction for KU's primary five. The question now is whether that effort will go down as the exception or the rule.
---
---
---
---
---