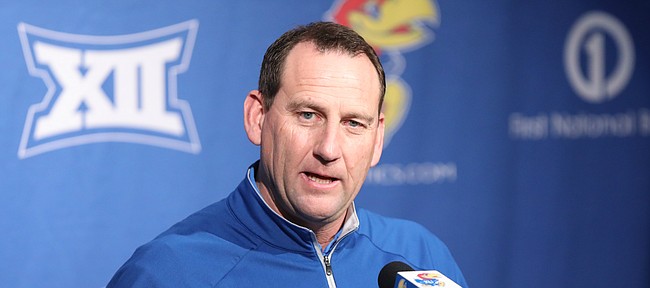 Fourth-year Kansas coach David Beaty finally got to discuss one of his favorite topics, recruiting, on Wednesday, otherwise known as National Signing Day in the realm of college football.
Speaking with media members for the first time since the Jayhawks lost their 2017 season finale at Oklahoma State, on Nov. 25, capping a 1-11 season, Beaty reveled in hailing the program's newest additions. Eventually the coach also responded to queries on the presence of 11 junior college signees in a 2018 class that currently features seven known scholarship players from the high school ranks.
The gems of the class both signed during December's early period but the press conference at Anderson Family Football Complex gave Beaty the platform to give his thoughts on four-star Louisiana additions Corione Harris and Anthony "Pooka" Williams.
Both Harris, a 6-foot-1 cornerback from Marrero, La., and Williams, a 5-10 running back from Boutte, La., committed to Kansas a year ago. Harris picked the Jayhawks over Mississippi State, the school that successfully recruited his prep teammate and former KU target Devonta Jason, while Williams stuck with Kansas despite late pushes from LSU and Nebraska.
"I just love this kid," Beaty said of Harris, who graduated early from Landry-Walker High in New Orleans and enrolled at KU for the spring semester. "If you watch him work out, he's got a smile on his face every day when he's down there. Most of those freshmen, a lot of times they come out of high school and enroll early, they look like they've been hit with a board, and this guy plows through workouts like it's nothing."
Harris is one of 10 members of the 2018 class already on campus, along with junior college transfers defensive tackle Codey Cole, defensive end Foster Dixson, safety Davon Ferguson, quarterback Miles Kendrick, safety Jeremiah McCullough, receiver Stephon Robinson Jr., and defensive end Najee Stevens-McKenzie, as well as Florida State graduate transfer tight end Mavin Saunders and one other early high school graduate, offensive lineman Nick Williams.
"Pooka" Williams, who nearly led Hahnville High to a Louisiana Class 5A state championship, isn't on campus yet, but Beaty credited running backs coach and Louisiana native Tony Hull for paving the way to get the stud running back to KU.
"For that guy to stay with us when he became the hottest recruited guy in the state of Louisiana, which is a highly recruited area," Beaty said, "for him to keep his word and become a Jayhawk, man, just speaks volumes to who we thought he was."
The biggest surprise of signing day came when previously uncommitted Kenny Bastida, a three-star linebacker from Pompano Beach, Fla., signed with the Jayhawks. According to Rivals, Bastida previously had offers from Penn State, LSU, Michigan State, Wisconsin, North Carolina State and several other programs.
KU linebackers coach Bill Miller and offensive coordinator Doug Meacham, Beaty said, were responsible for getting the 6-1, 230-pound Bastida to pick Kansas.
"We were trying to keep this guy down and not let anybody find out about him because it's one of those deals where people are going to come after him if he they find out about him," Beaty said of Bastida, who visited KU this past weekend.
The bulk of the class, though, was comprised of 11 juco prospects. Beaty offered his explanation of why KU strategized to bring in so many in one signing class.
"So what we knew we needed was we needed depth at that safety spot, so we definitely needed that. We also knew that having a long, thin, skinny kid come in here and think he's going to take the production of Dorance (Armstrong, who left early to enter the NFL Draft) was going to be difficult," Beaty said.
"However, we felt like if we could I.D. the right type of guys, that we might be able to fill that production by being able to do what we've done with the guys that we've signed. We knew we needed help at corner. We've had a couple injuries out there. We weren't extremely deep there with guys that were Big 12 level," he added. "So, like I said I think in the opening, everybody in the country is going to try to fill specific needs. For us it was a little of both. Some places we needed depth. Some places we needed some guys that were ready to go now."
Although KU didn't officially announce him as a signee, three-star defensive end Miles Emery, from Blue Valley North, took part in a ceremony at his high school on Wednesday. A similar scenario played out this way for KU a year ago, when New Orleans receiver Travis Jordan wasn't mentioned publicly by KU but signed. Jordan indeed made his way onto the 2017 roster. While that doesn't mean the same thing will happen for Emery, it seems plausible, and Jayhawk Slant lists him as signed.
If one counts Emery among the high school signees, the total currently stands at eight. Texas prep QB Torry Locklin remained unsigned as of Wednesday.
KU football's 2018 recruiting class
9 High school prospects
OL - Mac Copeland, Wichita Collegiate High
CB - Corione Harris, Landry-Walker High (La.)
RB - Anthony "Pooka" Williams, Hahnville High (La.)
DE - Miles Emery, Blue Valley North
OL - Nick Williams, Ritenour High (Mo.)
OL - Jacobi Lott, Tascosa High (Texas)
Ath. -Ryan Malbrough, Cecilia High (La.)
QB - Torry Locklin, Rockdale High (Texas) [*unsigned]
LB - Kenny Bastida, Deerfield Beach High (Florida)
11 Junior college prospects
DE - Najee Stevens-McKenzie, junior, ASA College (N.Y.)
CB - Elmore Hempstead, junior, Fort Scott C.C.
S - Jeremiah McCullough, junior, Hartnell College (Calif.)
DB - Davon Ferguson, sophomore, Hartnell College (Calif.)
WR - Stephon Robinson, sophomre El Camino College (Calif.)
DE - Foster Dixson, junior, West Los Angeles College
CB - Elijah Jones, junior, Ellsworth C.C. (Iowa)
DT - Charles "Codey" Cole, junior, Butler C.C.
DE - Azur Kamara, junior, Arizona Western C.C.
QB - Miles Kendrick, sophomore, College of San Mateo (Calif.)
OL - Reuben Lewis, junior, Coffeyville C.C.
1 graduate transfer
TE - Mavin Saunders, Florida State
7 known or probable freshman walk-ons
Ath. - Nick Channel | 6-0, 205 | Kapaun Mt. Carmel High
TE - Dylan Freberg | 6-4, 210 | Blue Valley North High
QB - Billy Maples | 6-2, 220 | Park Hill High (Mo.)
Ath. - Cody McNerney | 6-1, 200 | Wichita Collegiate High
OL - Jack Murphy | 6-9, 291 | Rockhurst High (Mo.)
TE - Jack Parks | 6-5, 230 | Olathe Northwest High
OL - Spencer Roe | 6-4, 270 | Free State High