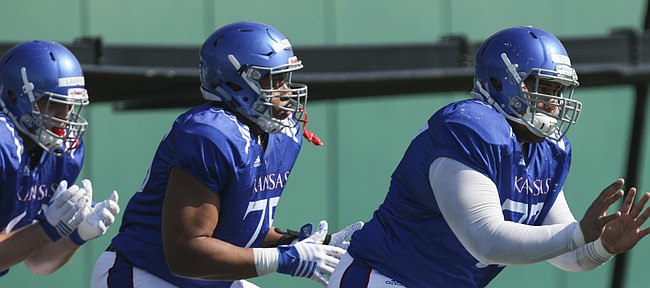 New head coach Les Miles now has three of his 10 on-field assistant coaches in place for his first Kansas football staff.
Miles announced Friday afternoon he hired Luke Meadows, a former colleague of new KU offensive coordinator Chip Lindsey, as the Jayhawks' offensive line coach.
Meadows, who worked the past two years at Eastern Michigan, teamed up with Lindsey previously at Southern Miss, during the 2014 and 2015 seasons.
"Luke is an outstanding coach at a position that is really instrumental to the success of our offense," Miles stated in a release. "His familiarity with Chip and the style offense he wants to run is a huge asset to us as we look to implement the offense with our staff and players. We are excited to have Luke and his family joining us at Kansas."
In 2015, Southern Miss became the second team in NCAA history to have a 4,000 yard passer, a 1,000 yard receiver, and two 1,000 yard rushers. In addition, USM had one of the most explosive offenses in the nation, leading all schools with plays of 20-plus yards (109) and ranking second in plays of 30-plus yards (54).
"He is one of the best fundamental offensive line coaches I have been around," Lindsey said of Meadows, adding he is "excited" to work with the O-line coach again. "Another important thing about Luke, though, is the relationships he develops with his players. We share the same philosophy in that the relationships we build with our players at Kansas will be our number one priority."
For the past two years, Meadows was Eastern Michigan's O-line coach and run game coordinator.
In 2017, EMU (5-7) finished third in the MAC in passing offense at 257.3 yards per game. The line also improved down the stretch with its rushing attack, as EMU ran for 815 yards during its final four games, which included four 100-yard rushing performances.
During Meadows' first season with the Eagles, they also ranked 23rd nationally in fewest sacks allowed (1.25 per game), according to CFBstats.com. In 2018, with EMU 7-5 heading into the Camellia Bowl, that ranking stands at 120th (3.17 per game). This past season at KU, the Jayhawks ranked 85th in that category (2.5 per game).
AJ Ricker, whom Meadows will replace as a position coach, oversaw KU's offensive linemen this past season. Ricker and the other assistants from former head coach David Beaty's staff remain under contract with KU. The team has not yet announced what roles full-time assistants for Beaty will take on moving forward.
As of Friday afternoon, Miles had announced the hiring of Lindsey, Meadows and defensive backs coach Chevis Jackson.
While no announcement has been made regarding the future of running backs coach Tony Hull, he has been actively recruiting since Miles took over.
After two years working with Lindsey at Southern Miss, Meadows became the assistant head coach and O-line coach at Garden City Community College, where the Broncbusters won the 2016 NJCAA national championship, going 11-0, defeating Arizona Western College, 25-22, in the title game.
Prior to his time at Southern Miss, Meadows spent two years at Florida Atlantic University (2012-13), and worked as offensive coordinator for the final half of the 2013 season.
His longest stop with a college football program came at South Dakota State, where he was the O-line coach from 2002-05 and and the assistant head coach and offensive coordinator from 2006-11. He was the longest-tenured assistant on John Stiegelemeier's SDSU coaching staff.
A Hot Springs, S.D., native, Meadows began his coaching career as an undergraduate at SDSU. After earning a bachelor's degree in 1999, he continued as a graduate assistant with the Jackrabbits during the 1999-00 seasons
Meadows and his wife, Rochelle, have three children, Daulton, Addyson and Maclane.