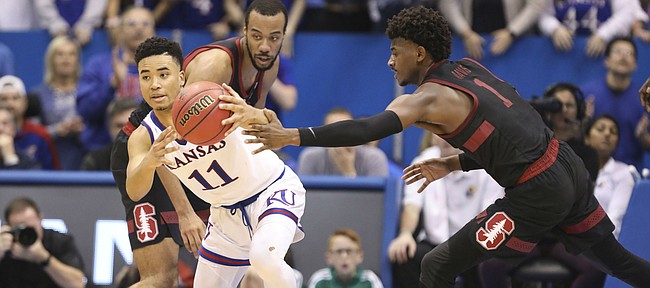 The offense was listless. The fans weren't into it. And a former Kansas basketball standout-turned head coach, Jerod Haase, had visiting Stanford in perfect position to pull off an upset Saturday at Allen Fieldhouse.
Then freshman point guard Devon Dotson decided to do something about it.
At halftime, head coach Bill Self had plenty to address. But for Dotson, two statistics presented to the nation's No. 2-ranked team towered over the rest. One assist. Seven turnovers.
"That was just a bad stat line," said Dotson, who had neither dished an assist nor coughed up the basketball in the first 20 minutes, "and I wanted to take care of that."
The Cardinal's 6-point halftime lead grew to 12 before Dotson could make good on his plans. But once he did, the Jayhawks found the jolt they needed to pull off a second-half rally and eventually put Stanford away in overtime, 90-84.
A 6-foot-2, 185-pound freshman from Charlotte, N.C., playing in just his sixth collegiate game, Dotson wasn't new to asserting himself for Kansas, but he played more like a passing point guard than a scoring one in the second half, providing some dynamic pop to KU's previously inert offense.
Photo Gallery
Kansas Basketball v. Stanford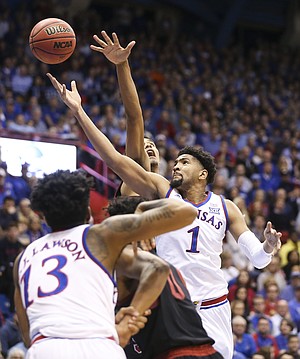 View a gallery of images from Saturday's game between the Jayhawks and Cardinal at Allen Fieldhouse.
In KU's first five games, Dotson only had 12 assists. His confidence as well as the team's grew down the stretch in Game 6 as he passed out four. It all began with 15:15 left in regulation when Dotson took his speedy dribble into the teeth of a lengthy Stanford defense and kicked the ball out for a Lagerald Vick 3-pointer.
By the final seconds of the second half, four Dotson passes had led to Vick 3-pointers, including the most important setup of the thriller: a 3 with 0:07 to play in regulation that forced overtime.
"He was big," said Vick, KU's soft-spoken senior star, of the freshman who kept finding him. "Just making the plays we need, finding the open players and being aggressive."
Just a year ago, when Dotson was on his way to becoming a McDonald's All-American at Providence Day School, he averaged 28.5 points per game. As the point guard adjusts to a much different level of competition at KU, he continues seeking out ways to impact games without scoring.
"I would say it's something I've improved on, because we've got so much talent around us, so many weapons," Dotson said. "In high school I was the scorer. I had to. I had to do that for the team to win. But here anybody can score from anywhere, so just getting in, making plays and trying to get the win."
His four assists against Stanford (4-4) proved just as critical as his 10 points on 3-for-7 shooting. And Dotson's head coach, Self, was thrilled to see the adapting freshman driving the ball and kicking it out.
"I think he's doing a great job getting downhill. The unfortunate thing is nobody else is. Nobody," Self repeated, before relenting somewhat and giving backup Charlie Moore credit for creating a couple of baskets by getting inside the paint.
Assistant coach Norm Roberts' scouting report warned the Jayhawks (6-0) about how stingy the Cardinal could be, how its long defenders switched everything and always seemed to be in perfect help position. KU needed someone to attack.
"But we had none of that early on. There was nobody that was, you know, playing the right way to let something happen behind what they did," Self said. "We've got to correct that. We've got to correct a lot of things, but that's something. We're not going to run good offense, in my opinion, until we can do that, because teams are just going to play behind (Udoka Azubuike) and push him out. And then if (Dedric Lawson) is not going to shoot a lot of 3s or take a lot of 3s where you have to guard him, now it's a crowded house. You've got to have some guards that can get downhill."
Dotson is the man for that job. He proved against Stanford he can do more than draw contact and finish around the rim when he uses his blazing speed to leave defenders in his wake.
This wasn't supposed to be a difficult win for Kansas. But the way it played out could change the trajectory of the season for the better if Dotson keeps forcing his way into the paint and using his abilities to create shots for his teammates.
"I wanted to be in attack mode at all times," Dotson said. "I feel like I definitely can improve on it more, just always putting pressure on the defense and just constantly making the defense work."
Up to this point, Dedric Lawson has been KU's best passer. If Dotson can close that gap by driving and dishing, the Jayhawks' offense might soon reach its full potential.