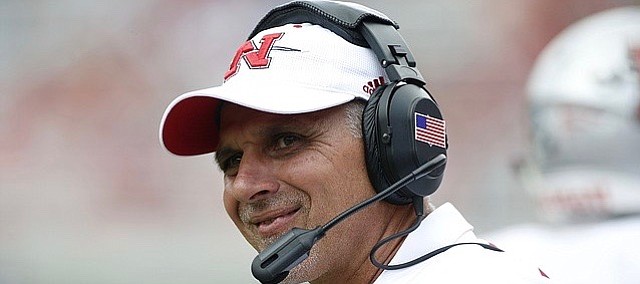 Both Nicholls State from the FCS and Kansas had fallen on hard times and decided to make coaching changes shortly after the end of their 2014 seasons. Both schools hired position coaches who had worked at the school earlier in their careers and had built reputations as hotshot recruiters. Both men last had been head coaches in high school.
Nicholls — which is listed by the school as the preferred reference, rather than Nicholls State — hired Tim Rebowe, and, of course, Kansas hired David Beaty.
Rebowe inherited not only a team that had gone 0-12 the previous season, but one that was in the midst of an 18-game losing streak.
Rebowe's records in three seasons at the school in Thibodaux, La.: 3-8, 5-6, 8-4 for a total of 16-18. Two of the losses came to Georgia, 26-24 in 2016, and Texas A&M;, 24-14, in 2017.
You already know KU's record in the past three seasons, so no point in repeating it, especially since doing so might trigger Recurring Nightmare No. 333.
Rather than rehash what has gone wrong at Kansas, I thought I would get ahold of Rebowe to find out what has gone right at Nicholls.
For one thing, Rebowe said by phone from his office, his young coaching staff "does an outstanding job of evaluating talent. We find the ones who might be 2 inches too short, might be a step slow, but can play football. Our guys do a good job of finding good football players. Sometimes, with all these evaluations, height, weight, time, something that's overlooked is, 'Can he play football?'"
Rebowe said he and his assistants trust their evaluation skills not just on unsung players.
"Some guys who are bigger recruits, sometimes I say, 'Man, I don't see that.' So we don't recruit him," Rebowe said.
That's not why he didn't recruit Kansas freshman running back Pooka Williams.
Rebowe said he has known Williams "for a long time. He's from St. Charles Parish. But the key to our recruiting, we have to know who we can get. We have to know we have a legitimate shot at getting a recruit. Otherwise, we'll be chasing ghosts."
The staff did recruit Ryan Malbrough, another KU freshman running back from Louisiana, "for a little while," Rebowe said.
Most of Nicholls' 63 scholarships, which can be spread out to a limit of 85 players per FCS rules, go to high school players within a two-hour radius of Thibodaux.
The roster lists 115 players and 106 are from Louisiana, six from Mississippi, two from California and one from Texas.
"People will sometimes ask me why I don't go into Houston to recruit," Rebowe said. "I'm like, 'Do you know how many programs go into Houston to recruit?' If you're getting the fifth-best guy (from a high school), I think I can find a better one closer."
Rebowe, 52, does limited recruiting at junior colleges and takes "bounce-back" recruits, players dropping down from the FBS level, but not as many as several other FCS programs.
This year's team includes former Texas A&M; running back Kendall Bussey, listed with Kyran Irvin on the depth chart as a backup to Dontrell Taylor.
Will we see Bussey on the field at David Booth Kansas Memorial Stadium on Saturday?
"If he's on the flight you'll see him on the field," Rebowe said.
Second-team left guard Alex Anderson is a transfer from Texas.
"We have a lot of good offensive linemen," Rebowe said. "He's been working with the ones and the twos."
Nicholls has eight returning starters on offense, including four offensive linemen, its two leading rushers, its leading receiver, its dual-threat quarterback and eight starters on defense. The Colonels are ranked No. 17 in the FCS Coaches poll.
"Not just teams that I've coached, but teams I've coached against, I've found, having the starting quarterback back is big," Rebowe said of sophomore Chase Fourcade. "Not just for us, but for Kansas, too (Peyton Bender)."
Rebowe's Colonels lost their first five games in 2015 as the losing streak swelled to 23. He had them in the 24-team FCS playoffs by his third season, which ended with a 38-31 loss to South Dakota in the first round of the playoffs.
"For things to fall into place the way they did last year, you have to get so many breaks," Rebowe said. "The ball has to bounce right. We had eight wins, but so many of those were close games that went down to the wire."
The experience of winning contests decided late should help the Colonels in the fourth quarter this season.
"I hope so, but I tell the guys, every team is different," he said. "Every year is different. You've got to be careful, still have to build that foundation. Yes, you want to have experience and confidence, but we have to make sure they stay grounded, levelheaded and not cocky and arrogant and think we've arrived, because we haven't arrived. We have not done anything yet."
Yet.
Rebowe shared his general impressions of the Jayhawks: "I think they're pretty athletic. They have a lot of production back at the skilled positions, at quarterback, running back (Khalil Herbert), a big-time receiver (Steve Sims). They spread the ball around and play at a fast tempo."
Kansas has far better access to athletes because players enjoy playing against the highest level of competition and find more prestige in the three-letter combination of FBS than FCS.
We'll find out Saturday, in what shapes up as a potentially exciting season opener, which squad has better football players.