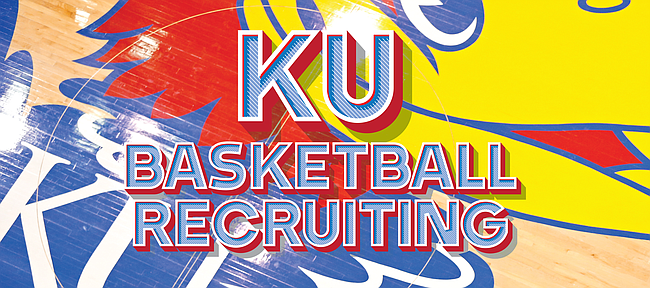 With Kansas coach Bill Self and part of his coaching staff down in the Dallas area over the weekend for what Rivals.com recruiting analyst Krysten Peek described as, "a huge opening weekend for recruiting," several targets in the 2019 and 2020 recruiting classes put on quite a show in front of the KU coaches and dozens more.
According to Peek, who was in Dallas over the weekend, two of the most impressive prospects that she saw drew serious interest from the Kansas contingent.
One was local prospect Jeremiah Robinson-Earl, the son of former KU forward Lester Earl and a Top 20 player in the Class of 2019, and the other was Class of 2020 point guard R.J. Hampton, whom Peek said established himself this weekend as the best prep point guard in the country, "regardless of class."
"The days are numbered where Coach Self is the only big name coach watching him," said Peek, who recalled Self as being the first major college coach to watch Hampton with great interest as far back as last summer. "This is definitely going to be a blue blood battle."
During one game this weekend, in front of a full house of who's who in college coaching, Hampton poured in 33 points, nine rebounds and eight assists, simply solidifying his status as one of the top prospects in the class.
As of today, Hampton ranks No. 3 in the 2020 class, according to Rivals.com.
Listed at 6-foot-4, 170 pounds, the Little Elm, Texas, point guard already has put together an impressive highlight tape and merely added to it this weekend.
"He's a long point guard who just has no fear in transition," Peek said. "He will take the ball coast to coast, through the lane between four defenders in traffic and finish at the rim. He had a steal at half-court, only had to get by one defender and pulled up for 3 like it was a layup, like it was nothing. He just has so much versatility to his game."
That same sentiment is starting to be expressed about Robinson-Earl, the No. 16-ranked player in the 2019 class, who plays his high school ball at nearby Bishop Miege.
Both Peek and Rivals colleague Eric Bossi said the one thing that stood out about Robinson-Earl this weekend was the bulk he has added to his nearly-6-10 frame and the evolution of his game.
"Physically, he already looks so much stronger," Peek told the Journal-World. "He looks like he's already had a year in a college weight room under his belt."
The next part of the evolution for Robinson-Earl will be changing his game to fit the modern flow that features big men shooting and moving much more than in years past.
"He's transferring his game from just a straight 4 into a stretch 4 player," Peek said. "He's not a swing 4, but he's a shooting 4."
Self and staff members were present for at least two of Robinson-Earl's games, according to Peek, and she said she expected that to continue in the future given the lack of quality depth in the 2019 class.
"Because the 2019 class is not that great and not that deep, the coaches have really honed in on the players they want," Peek said. "They want that kid to know that, every game he plays, someone's here watching you."
As for where KU stands with Robinson-Earl, Peek said it's a well-known fact that most people believe the Jayhawks are the team to beat.
"Everybody thinks that Kansas is the leader for him," she said. "But there are definitely other schools that are trying to get in there."
Several of these same prospects will return to the tournament circuit next weekend, when Nike's EYBL and Under Armour host events in Indianapolis and Adidas heads to Atlanta.
The live evaluation period, which opened last Friday, will close at the end of the weekend and recruiting will enter a dead period until a big Las Vegas event in July.
During the months between then and now, coaches can have limited contact with prospects in the Class of 2019 but cannot have any contact whatsoever with 2020 athletes.
One other noteworthy result of the weekend surfaced Monday, when Andrew Slater, of The Athletic, Tweeted that Kansas and Tennessee had offered a scholarship to 6-foot-11 center Kofi Cockburn, a rising four-star prospect from New York who is ranked No. 31 in the Class of 2019 per Rivals.com.