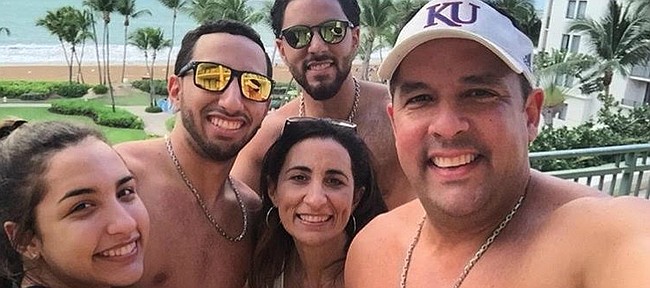 After two years of frustration, disappointment and long, excruciating waiting, the stage was set for Patricia Montero to finally step into a key role for the Kansas volleyball team.
KU coach Ray Bechard said Montero, a third-year sophomore from Ponce, Puerto Rico, was the team's best player during this summer's two-a-days — best, as in, playing at the highest all-around level of anyone on the team, even All-Americans Ainise Havili and Kelsie Payne — and it looked as if the ACL tear that stole Montero's freshman season back in 2015 was behind her, with better days ahead.
But just as soon as she stepped into the light, the ensuing days were filled with darkness, and tragedy again reared its ugly head in ways Montero never could have imagined.
First, in mid-August, she suffered another serious knee injury and was lost for the 2017 season before it even began.
What followed made the heartbreak of her injury and the painful hours of rehab seem like a picnic in the park. And it had nothing to do with volleyball or, really, anything to do with Montero directly.
As the KU outside hitter used classes, physical therapy and time with teammates as distractions, her family sat in harm's way in her hometown, bracing for not one but two powerful hurricanes that ripped through the Caribbean.
"It seems like a lot," Montero admitted in an interview with the Journal-World. "At first, I was like, 'Oh my God, again? Why is this happening to me? This is like the worst that could happen.' But then the hurricane hit back home and I realized my knee's nothing compared to people losing their homes and food and having no power and having no way to communicate with their families. My knee just seems small right now."
The first brush with Mother Nature — Category 5 Hurricane Irma, which ravaged parts of South Florida in early September — stayed mostly north of Ponce and sent little more than heavy rain and high winds toward the Montero family.
Relieved and left counting their blessings, the Monteros, along with many other Puerto Ricans, organized efforts to help neighboring islands that were not as fortunate.
Less than two weeks later, Montero's family found themselves nervously awaiting Round 2, as Category 4 Hurricane Maria headed right for them. This time, it hit, with sustained winds of 155 mph wiping out portions of the entire island and leaving all of Puerto Rico with heavy flooding, severe damage and no power. It was the strongest storm to hit Puerto Rico in 85 years and, by far, the worst Montero had ever seen or even heard about.

"Devastating," Montero said Friday, a few hours before finally hearing that her family was safe. "I can't really think about anything else right now."
Montero went a full three days without hearing anything about her family. She last spoke to her parents Tuesday morning and Hurricane Maria hit her hometown around 8 p.m. Tuesday night.
For the next few days, Montero attempted to call home or reach her family online roughly every half hour but never was able to get through.
"You talk about peaks and valleys," KU volleyball coach Ray Bechard said. "Watching her come all the way back from that first injury and play at the highest level she's played at and then, boom, another injury and now all of this. You really get perspective when, all of a sudden, you don't hear from your family."
Finally, around 7:45 p.m. Friday night, Montero got word from a cousin in Miami that her family was safe even though many of their possessions were not. By 2 p.m. Saturday, Montero had received what she had been waiting days for — a phone call from her father, via satellite.
"I can't really tell what they're doing or what's going on," said Montero, who has been glued to news coverage of Maria's aftermath. "I've only seen posts and videos, like Twitter, social media and all that. But I heard that the houses went down. We don't know to what extent, but everyone's alive so that's good news."
It's also just the beginning. Some news reports have indicated that parts of Puerto Rico could be without power for as long as six months.
Despite the damage and devastation, Montero said she was proud of the strength and courage she has seen from so many throughout her country and beyond.
"I truly believe the first one didn't hit us hard so we could help those around us," Montero said. "And now that this one hit us, we have Puerto Ricans in New York trying to help us and Florida. So I feel like we've got support. I've seen videos, interviews, with people saying, 'We're gonna get through this. We're all together.' So we have that support and it's really comforting to see that."
Montero said she would not truly be able to relax until she could get home to see and hug her family again. Although she has continued to work with her teammates since her surgery on Aug. 28, participating in stretching drills and watching every practice and match the 12th-ranked Jayhawks (11-2) have played, Montero believes her injury actually may have come at a good time.
"I told Coach B that if we have a weekend off I would like to fly home, if there's a chance," she said.
Whether that's possible in the near future remains to be seen, both because of KU's schedule and the status of the airports in Puerto Rico. But Montero feels confident that, at worst, she'll get back home for a month during winter break.
Until then, until she can hug her father and see the damage to her home firsthand, she'll carry on with the things that have helped her survive what easily have been the scariest and most draining few weeks of her life.
"I have rehab, I have class, I have volleyball, I have the team," she said. "Besides keeping my family in prayers, I can't really do much so I'm trying not to let it affect my daily routine. I know they wouldn't want me to not take care of business here. But it has been devastating, as bad as it gets, and I want to go home bad just to see my family. Being there with them will give me a lot of peace."