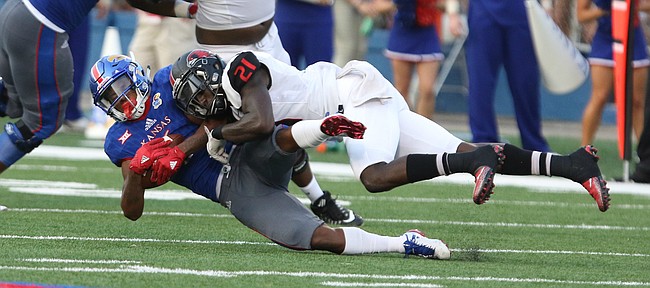 Amid the commotion that accompanies the first appearance of a ballyhooed quarterback such as Peyton Bender, it might have been easy for some to overlook the numerous Kansas football players making their debuts in the Jayhawks' season-opening victory over Southeast Missouri State.
From true freshmen to key transfers, head coach David Beaty entered Week 2 of his third season satisfied with how the least experienced players on the roster handled themselves under the Memorial Stadium lights, with not only a big crowd and the coaching staff, but also KU's 2008 Orange Bowl championship team watching their every move.
"For those guys to handle those type of distractions," Beaty said, "I was pretty pleased with it."
The list of Kansas newcomers included true freshmen such as receiver Quan Hampton, running back Dom Williams, linebacker Kyron Johnson and left-footed kickoff specialist Liam Jones. Redshirt freshmen such as starting right guard Chris Hughes and reserve QB Tyriek Starks played in their first college games, as well.
Podcast episode
On this episode of the KU Sports Hour, KU football beat writer Benton Smith is joined by Bobby Nightengale and Scott Chasen to recap KU football's opener, a 38-16 win over Southeast Missouri State. Topics include key takeaways from the game (1:05-15:45), player(s) of the week (15:45-26:15), play of of ...
Beaty's ranks featured no shortage of transfers, either, with receivers Kerr Johnson Jr. and Daylon Charlot, defensive tackle J.J. Holmes, cornerbacks Hasan Defense and Shak Taylor, running back Deron Thompson, defensive lineman KeyShaun Simmons, and offensive linemen Charles Baldwin, Andru Tovi and Zach Hannon contributing to varying degrees.
Plus, though senior walk-on place kicker Gabriel Rui and redshirt junior running back Reese Randall, a former walk-on, had spent more than one year in the program, they hadn't participated in live action until KU's 38-16 victory Saturday.
Rui's first field goal at the Division I level, a 25-yarder in the fourth quarter, split the uprights and he went 5-for-5 on extra points.
Most of KU's production influx, though, came from Bender, the skill positions and the secondary.
"For Dom Williams, for me to never look into his eyes and see anything other than him focused, was really good to see," Beaty said after the running back led KU with 10 carries, 41 yards and a rushing touchdown.
"Seeing Quan Hampton doing the same thing out there," Beaty added of the receiver, who had three catches for eight yards and a 20-yard kickoff return.
"Watching Hasan Defense, who I think he can be a special player, I really do. I think he's talented. And he did not have any issues with being distracted," KU's head coach said of the starting sophomore corner, who made five solo tackles and broke up two passes, with Kansas greats Aqib Talib and Chris Harris Jr. on the sideline.
"Shak Taylor, just a very workman — he seems like an older guy to me than even what he is," Beaty added of Defense's cohort, a starting junior corner credited with two tackles and two pass breakups. "I thought he did a really, really nice job."
Junior defensive tackle and captain Daniel Wise left the opener grateful for the contributions of Defense, Taylor and others, as they transitioned into their new roles.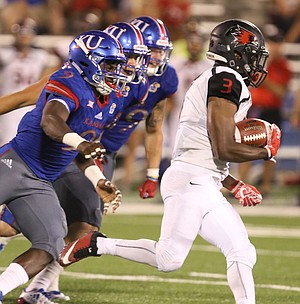 "They eased in and fit in just right. The missing piece of the puzzle," Wise said. "We've seen them all camp, all summer. They've been doing good and I think the game went well. Obviously, we're going to check out film and see what we did wrong, but I think they handled themselves pretty good."
At the linebacker level, another team captain, Joe Dineen, noticed true freshman Kyron Johnson's speed showing up in a game, the same way it had since the 6-foot-1, Arlington, Texas, native arrived at KU. Johnson prevented a long SEMO touchdown rush in the fourth quarter when he sprinted down running back Marquis Terry.
"That's one of his big-time attributes. That guy can fly like a receiver," Dineen said of Johnson, a backup who his veteran teammate thinks can develop into a "big-time" asset. "Kyron has such a huge upside. I'm excited to see what he can do. He'll just keep getting better."
According to Beaty, none of the newcomers would have found their assorted levels of success without KU's veteran leaders.
"You know, we don't have seven of them out there at the same time," Beaty said of relying on first-year contributors, freshmen or otherwise. "I mean, in the last couple years, man, you don't think about it when you're going through it until you look back on it and you just start giggling and going, 'Oh, my gosh.' There (were) eight freshmen looking at each other going, 'What do we do now? How are we supposed to do this?' I mean, there was nobody to turn to, because they were all young."
Indeed, now that the Jayhawks have survived the difficult first two seasons of Beaty's massive rebuild, players such as Wise, Dineen, Dorance Armstrong Jr. and Steven Sims Jr. all are in their third seasons of taking on critical roles, and therefore far better equipped than when they arrived.
"Well, now we've got some older guys there, and there's maybe one or two (freshmen or newcomers) in there with them," Beaty said. "Makes a difference. So that's a great advantage for us now to have that."