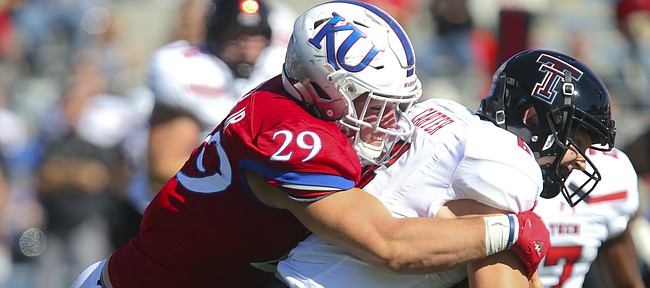 It's not often that a football player at the University of Kansas can take the field knowing what he does over the course of the coming four quarters could be applauded or scrutinized on a national stage.
That's the scenario in front of the Jayhawks Saturday night at Amon G. Carter Stadium. TCU's status as the No. 4 team in the nation inspired FOX to broadcast in prime time (7 p.m.) what shapes up as a lopsided Big 12 matchup.
Over the past several days, third-year head coach David Beaty, as most in his position would, frequently branded the rare Kansas night game on network television as an "opportunity."
Sophomore safety Mike Lee explained why the Jayhawks (1-5 overall, 0-3 Big 12) are looking forward to the program's first prime time network appearance since 2009 at Texas — incidentally loss No. 4 in KU's current 43-game road losing streak.
Podcast episode
On this episode of the KU Sports Hour, hosted by KU football beat writer Benton Smith, the KUsports.com staff discusses KU's 45-0 blowout loss to Iowa State. Topics include: What happened to KU's offense? (2:30-12:15), worst losses of the David Beaty-era (12:15-23:05), how potential staff changes would work (23:05-28:45) and ...
"I'm really excited, because it will be my first time playing on national TV, where everybody can see how I really play and stuff like that," said Lee, who called it a unique chance for the whole team.
Lawrence native and junior linebacker Joe Dineen, who grew up closely following the rise of Kansas football under former coach Mark Mangino and the fall that ensued post-Mangino, understands most college football fans and media members around the nation don't follow KU closely. While TCU (6-0, 3-0) is favored by almost 40 points, Jayhawks such as Dineen, who leads all FBS players with 8.2 solo tackles per game, have an isolated shot at getting their talents recognized from coast to coast.
"It's huge for us and it's huge for the program moving forward in terms of recruiting and all that stuff. For us to be able to go out and show the whole country what we're about is huge," Dineen began. "And now, on the contrary, we know that it's high stakes. We've got to go out there and perform, because if we don't it is nationally televised and people will also see that."
In particular, KU's defensive play-makers, such as Lee, Dineen, and junior linemen Daniel Wise and Dorance Armstrong Jr. seem ready to embrace their potential time in college football's national spotlight.
"That's a whole other level," Lee said. "Lawrence? Yeah, they know Dorance, Daniel Wise, me, Joe, but elsewhere nobody really knows us. Now we can show people that, yeah, (the Jayhawks) have some great talent on their team and they can play with anybody."
Because TCU — which ranks in the top 20 nationally in both scoring offense (41.3 points, 11th) and scoring defense (17.3 allowed, 17th) — has emerged as a College Football Playoff candidate in the Big 12, the Jayhawks — who rank 92nd in scoring (24.7 points) and 128th in scoring defense (44.8 allowed) — realize this game projects as one of their most difficult on the schedule.
"So it's maybe a little bit more pressure," Dineen said of playing it on network TV, "but it's pressure that we want."
Added Lee: "I guess we can go out and prove to people that we can play with the best."
KU hasn't played on FOX in prime time since defeating Virginia Tech in the 2008 Orange Bowl. The Jayhawks' most recent network TV game came in 2016, when KU won its only conference game of Beaty's tenure to date, against Texas, on ABC.