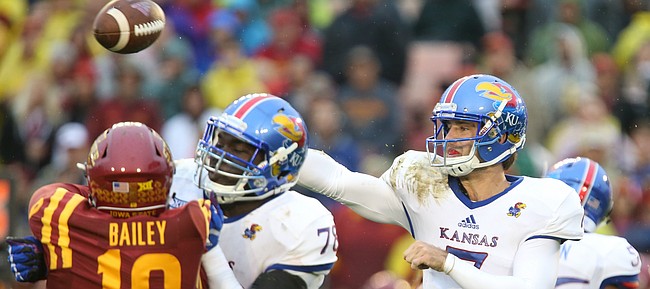 Perhaps the most difficult part of enduring the kind of nightmarish game the Kansas football team's offensive players did this past weekend at Iowa State, in a 45-0 shutout, is not allowing the clunker to further haunt them as they try to move forward.
In the days since the Jayhawks averaged just 1.8 yards gained per snap, head coach David Beaty thinks his players have found the right head space to respond appropriately.
"Last week's offensive performance is unacceptable," Beaty said at his Tuesday press conference. "There is just no other way to say it. And we all shoulder that burden — myself, our staff, all of our players — and we have to do a good job of looking inside. And, really, our entire team does."
Kansas (1-5 overall, 0-3 Big 12) managed a distressingly low 106 yards at Iowa State, with no semblance of ability to string together first downs. Starting quarterback Peyton Bender and back-up Carter Stanley combined to complete just 11 of 26 passes for 44 yards, with one interception (thrown by Bender on the first offensive snap). Junior running back Taylor Martin on 17 carries never ran farther than 14 yards and finished with 53. Iowa State's defensive front continually won in the trenches with starting KU center Mesa Ribordy out of the lineup due to an undisclosed injury.
Podcast episode
On this episode of the KU Sports Hour, hosted by KU football beat writer Benton Smith, the KUsports.com staff discusses KU's 45-0 blowout loss to Iowa State. Topics include: What happened to KU's offense? (2:30-12:15), worst losses of the David Beaty-era (12:15-23:05), how potential staff changes would work (23:05-28:45) and ...
"Some of the issues that you run into, it's just real easy to say, 'Man, can you believe that happened?' You know? But that's not how you deal with it," Beaty said. "There is a reason why some of those things can be happening, and it forced us as a team to really look inside and really go back to the very foundation of how we're building this program. And it starts with entitled to nothing and grateful for everything."
The third-year KU head coach, who enters this Saturday's game at No. 4 TCU (6-0, 3-0) with a record of 3-27, said all the Jayhawks have worked on "tightening up all the details" this week, going on to cite how they need to keep the locker room clean, park their cars in the right spots and always run off the field.
"You have people that go make things happen instead of people waiting on things to happen," Beaty added of such an approach.
In the meantime, Bender said KU's offensive players have done their part to quickly regroup from the disappointment of what transpired in Ames, Iowa.
"Our confidence is fine. We know what we're capable of. We just didn't show that on Saturday," Bender said. "The good thing is, though, we've watched the film. We know what we need to do to improve on. We know how to fix the mistakes."
Asked to identify the recurring issues that disrupted KU's brand of Air Raid at ISU, Bender first brought up missed assignments here and there before getting to the crux of the matter.
"Honestly, after watching the film, we just didn't play hard," Bender admitted. "They played a lot harder than us and they whooped us because of it. We can't let that happen. We've got to play much harder and play with a lot more effort."
Stanley, who experienced much of his action in the fourth quarter, agreed the Jayhawks have learned from the awful showing.
"Last week was certainly unfortunate. I think we had two key players out in Khalil (Herbert, sophomore running back) and Mesa, that certainly hurt. All the guys behind them, they are capable of doing things that I think last week wasn't a reflection of it," Stanley added. "It was tough, but we put it behind us. Watched film on Sunday, looked at a lot of mistakes around the whole offense that we could easily fix."
The Horned Frogs lead the Big 12 in scoring defense (17.3 points per game), total defense (336.3 yards) and rushing defense (98.3 yards). TCU is 3-0 at Amon G. Carter Stadium this season and averaging 50.0 points a game at home, with victories over Jackson State, SMU and West Virginia.
Kickoff is set for 7 p.m., on FOX.
Who is 'available?'
Beaty this season has opted not to share the specifics of injuries and ailments that impact a player's chances of playing for KU, instead labeling them as "available" or "unavailable."
With the Jayhawks midway through the 12-game season, Beaty opened his weekly press conference Tuesday with a rundown of which players are out for the season.
The head coach identified the following players — some previously named, others newly revealed — as unavailable for the final six games: junior defensive end Willie McCaleb, junior receiver Keaton Perry, redshirt senior long snapper John Wirtel, senior receiver Bobby Hartzog Jr., freshman linebacker Jay Dineen, freshman receiver Kenyon Tabor, senior defensive tackle Isi Holani, sophomore offensive lineman Cam Durley, senior running back Denzell Evans and junior running back Octavius Matthews (retired due to heart condition).
As for Saturday's game at TCU specifically, Beaty said potential starters Ribordy and Herbert, as well as redshirt freshman backup linebacker Dru Prox, will be game-time decisions.
Freshman defensive end Vaughn Taylor, the coach added, is awaiting a diagnosis to see "what his availability is."
Return of Defense
This past weekend at Iowa State, sophomore Hasan Defense returned to the lineup in a reserve capacity at cornerback after missing KU's homecoming loss to Texas Tech. Beaty stated previously Defense had mono, making him unavailable versus the Red Raiders.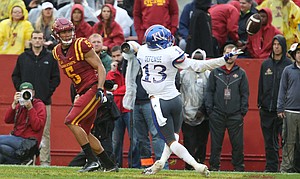 Asked whether Defense is playing while dealing with mono, Beaty responded the 5-foot-11 corner from Jacksonville, Fla., has been cleared to play.
"But he looks like he's getting close to being back to the same Hasan that I knew before," Beaty added. "You can tell definitely in his stamina, just some breathing things, that he wasn't able to play the number of plays we're normally used to him playing."
Defense broke up a potential ISU touchdown pass in the end zone. He at times played in relief of both Shakial Taylor and Kyle Mayberry. In each of KU's previous two games, Mayberry, a sophomore corner from Tulsa, Okla., started in Defense's place.
"The good thing is Kyle Mayberry stepped in and did a bunch of good things the other day, which is good, too," Beaty said after Mayberry was credited with a breakup of his own at ISU. "We need to get that to happening anyway. It's a tough league. You could lose guys at any time. You've got to have your depth ready."