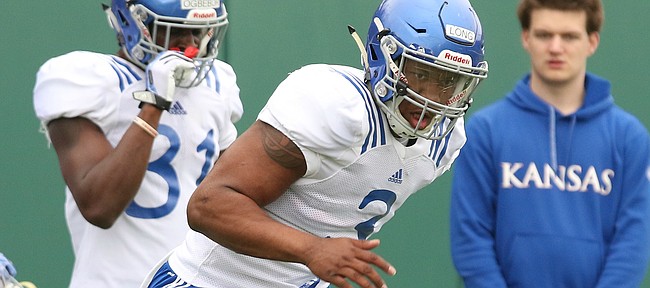 Entering spring practices, Kansas football coaches weren't entirely sure what to do with sophomore Maciah Long.
As a true freshman, the Jayhawks' roster listed the 6-foot-2 Long as a tight end, but the Houston native got onto the field a couple of Saturdays as a burly wildcat quarterback.
However, when offseason practices kicked off in March, Long found himself taking reps at linebacker. At the time, defensive coordinator Clint Bowen said KU's staff was just trying to experiment and find the best fit for Long and his athletic frame.
"He's a bigger kid, a 250-pound kid and moves well and does some things well. So we could use him a few different ways," Bowen said before getting into the ideas the coaches bounced around for Long's sophomore season. "We could play him at true Mike linebacker and get a little bit bigger on some occasions. Some of the things we do with our defense, he could be a stand-up defensive-end-type guy, like we did a little bit last year with Cam Rosser, for that kind of stuff."
The linebacker trial didn't stick, but when the staff moved Long down to the defensive line and positioned him on the edge, they found something they liked. Long took the majority of his spring snaps at defensive end and it began to feel natural for him.
"I'm more of the speed guy on the outside," Long said, "really, anywhere that I can help the team out."
Although Long quarterbacked North Shore High to a Texas Class 6A Division I state championship as a prep senior in 2015, during KU's spring game he showed up defensively, playing the same position as his former high school teammate, All-Big 12 defensive end Dorance Armstrong Jr.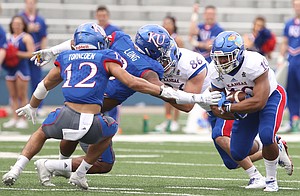 When a play broke down for third-string quarterback Tyriek Starks during the scrimmage, and the redshirt freshman QB tried to extend it by rolling out left, Long came off a block to sack Starks for a four-yard loss.
On another down, Long, after shedding his blocker, blew up a carry by running back Deron Thompson at the line of scrimmage.
Though taking on a dissimilar role from his freshman season at Kansas, Long didn't mind the change or that he switched from one side of the ball to the other.
"My first year was amazing here. I was just lucky to be on the field as a freshman," Long said. "It was really a great experience for me."
This fall, playing at defensive end — even though the D-line is the most skilled and accomplished position group on KU's roster — Long should get on the field far more often than he did in 2016, when he appeared in 10 games and ran the ball twice out of the wildcat formation for one yard.
"I think that group can be very talented this year, because you've got guys like Dorance, Daniel Wise… them guys really are the main core and really are the leaders of the defense to me," Long said. "They push everybody to be better and take it to the next level."
Long's coaches spent the spring identifying the ideal place to put him by observing how he moved and reacted in various assignments. He's glad they concluded to make him a defensive end.
"And it's going pretty good for me," Long added.
At first, Bowen didn't know for certain where Long would line up in 2017. But he expected the Jayhawks would figure out something.
"Because 250-pound guys that can move," Bowen said, "you've usually got to try and find a spot for them."