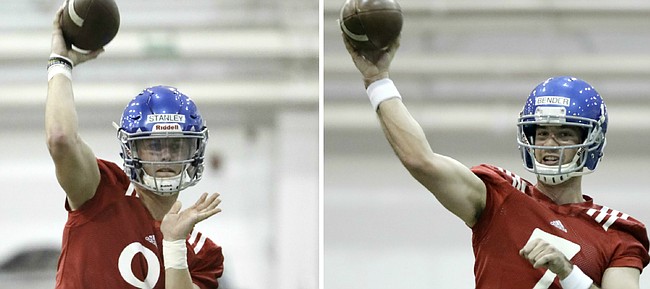 Ask David Beaty about new quarterback Peyton Bender this spring and odds are the Kansas football head coach won't fire off too many words in response without bringing up returning QB Carter Stanley. Or vice versa.
Discussing his first impressions of Bender, the former Washington State passer who transferred to KU from Itawamba Community College (Miss.), earlier this month, when the Jayhawks began their practice schedule, Beaty immediately said he would be remiss to not also get into the subject of Stanley's progression since he closed 2016 as the program's starting quarterback.
"That dude worked his tail off. He had a terrific offseason," Beaty said of Stanley, upon fielding a question related to Bender, symbolizing the neck and neck nature of the Kansas QB competition.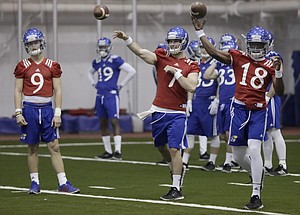 When spring practices began two weeks ago, the third-year head coach noted Stanley mostly made good decisions, on Day 1, save a costly mistake.
"He came back down, he settled right down and went right back into completing ball after ball and moving our team right down the field — just like he did later in the year," Beaty said of the incumbent's quick rally and recovery.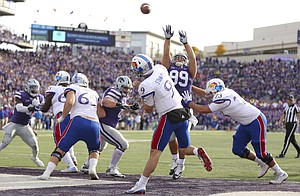 The head coach, too, could tell Bender didn't yet have the familiarity with KU's personnel that Stanley did, what with the redshirt sophomore having spent the previous two years in Lawrence.
However, the 6-foot-1, 190-pound Bender's talent wowed Beaty, who said the ball gets out of the new KU quarterback's right hand quickly.
"He's ultra-accurate. He threw one ball today that I don't know how he got it in there," Beaty said after watching the first spring practice. "But you can tell he was hanging on it, hanging on it. And I was wanting him to get off of it and get on to the next read, but he dropped it in there, I think, to Kwamie Lassiter (II). It was a hell of a throw. You don't see those throws very often."
Beaty, who turned the offense over to new coordinator Doug Meacham and QB coaching responsibilities to former off-the-field assistant Garrett Riley this offseason, said he doesn't want Bender or the 6-2, 196-pound Stanley to lock in on one receiving option and wait for an opening. He would prefer they check down to a simpler throw.
Still, Beaty appreciated the confidence he saw out of Bender early, as the one-time Mike Leach Air Raid pupil began battling Stanley for the top spot on the Kansas depth chart.
"He's just got some zip, man," Beaty said of Bender's arm. "The ball gets out so quick. That was impressive. The more that he plays with our guys I think there's some good things to see in the future."
Coinciding with a break in classes, Kansas hasn't practiced since March 16. The Jayhawks resume their spring schedule Tuesday, with their fourth of 15 practices — a slate that includes the annual Spring Game, at 1 p.m., April 15, at Memorial Stadium.