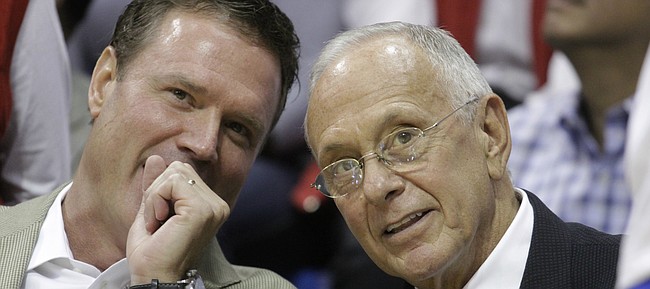 On the day that Larry Brown was inducted into the Naismith Memorial Basketball Hall of Fame, back in 2002, between all of the buzz and emotion surrounding his enshrinement, the former Kansas coach who is the only man to have coached teams to NCAA and NBA championships took time to walk around the Hall and reminisce about a bunch of great moments with dozens of his favorite people already in basketball's most illustrious venue.
Today, with former Brown protégé and close friend Bill Self on the brink of joining him in the Hall of Fame, Brown prepares to make room for one more. Earlier this season, the 14th-year KU coach was nominated and named a finalist for this year's class, which will be revealed Saturday in Arizona.
A graduate assistant on Brown's staff at Kansas during the 1985-86 season, Self showed early on that he had the two qualities Brown believes are most important when putting together a coaching staff.
"My whole thing was always, 'Are you going to work hard and be loyal,'" Brown told the Journal-World during a recent chat about Self and the Hall of Fame. "Anyone who's around Bill Self sees those two qualities right off the bat."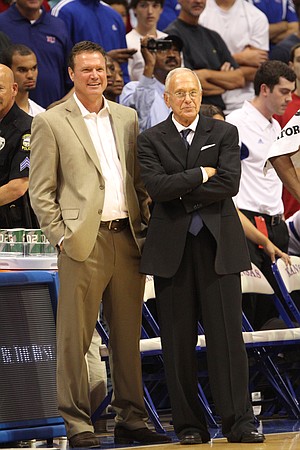 That's not to say that Brown, back in the 1980s, knew that Self was destined to become a Hall of Fame coach. Brown said he has been asked that question often about Self, John Calipari, Gregg Popovich and others, and instead of painting himself as a prophet, he always answers honestly.
"I just knew they were loyal, hard-working guys and that I wanted to be around them," Brown said. "I don't know if anybody can predict that someone will one day be in the Hall of Fame."
After getting a call from Self about an opportunity to join his staff following their first encounter at a summer camp, Brown appreciated Self's aggressive, go-getter attitude.
"From that moment on, we've had a relationship that's just grown and grown and grown," said Brown, who has been a fixture at KU practices and behind the Kansas bench during recent NCAA Tournament runs. "I'm in awe of what he's done."
While the ridiculous record at home, insanely high winning percentage, 13 consecutive Big 12 titles and laundry list of other Self accomplishments have impressed him, Brown lists Self's unselfish nature as one of his strongest traits.
"I've never once heard Bill blame a player for costing a game," Brown began. "I've never once heard him not compliment the people he coaches against, regardless. I've never once heard him talk about bad calls costing him. And he doesn't tear people down in recruiting, he talks about what KU has. Those are things, to me, that are so special.
"It's unbelievable what he's done and he has not accepted it as him doing it, which is really unique.... There's a DNA in there that he understands you don't do this alone. You don't get to where you are and have all this success unless a lot of people have helped along the way. But there's not a lot of guys that accept that or say that."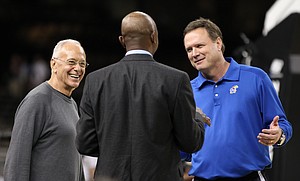 Ever a student of the game, Brown, 76, has watched Self's teams closely throughout the years, living and dying with every make and miss during March Madness and laughing and learning during the KU practices he has attended. One of Brown's favorite aspects of Self's style is how his teams always seem to execute flawlessly after timeouts.
"Some guys are great game coaches, some are great practice coaches, and he's the whole package," Brown said.
Never was that more clear to Brown than during the Jayhawks' recently completed 31-5 season in which Self's coaching chops were tested because of the make-up of his roster. No problem, said Brown, who added that Self had demonstrated long before the 2016-17 season that he was both able and willing to evolve as a coach.
"You don't get to the level he's at without trying to learn and get better," Brown said. "He's always trying to improve. And, to me, this is his best year because, he went from coaching a certain way since he's been at Kansas, utilizing big guys and playing inside-out, to all of a sudden, playing four-out, one-in without a deep bench. It just shows you why he's so special."