The wooden basketball court floor inside McCarthy Hall sustained some water damage this week after a fire sprinkler head turned on inside the building.
County emergency personnel and University of Kansas facilities staff responded to a fire alarm at 11 p.m. Wednesday at McCarthy Hall, KU spokeswoman Erinn Barcomb-Peterson said in an email. McCarthy Hall, 1741 Naismith Drive, is the on-campus apartment building for the KU men's basketball team and other male students.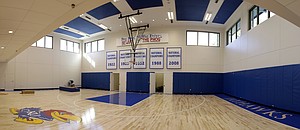 A basketball had hit a sprinkler head in McCarthy Hall's basketball court, causing water to flow onto the court, she said.
There was some water damage, but KU Student Housing did not have an estimate of its scope as of Friday afternoon, Barcomb-Peterson said.
McCarthy Hall has an enclosed half-court basketball court just off the lobby. It features a wooden floor and replicas of the national championship and "Beware of the Phog" banners that hang in Allen Fieldhouse.
The basketball team wasn't home that night. Players were in Kansas City, Mo., preparing to play in the Big 12 Tournament the following day.
Have a tip or story idea?
---
More stories