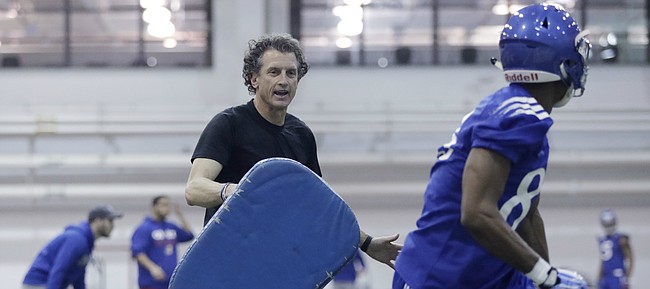 ESPN uses a formula that ranks all 130 Football Bowl Subdivision schools. It's called Football Power Index (FPI) and is defined as "a measure of team strength that is meant to be the best predictor of a team's performance."
The 2017 FPI has Ohio State No. 1, Alabama No. 2, Florida State No. 3 and Oklahoma No. 4.
Just one of the 64 schools from the so-called Power Five football conferences (ACC, Big Ten, Big 12, Pac 12, SEC) falls outside the top 100 and you can probably guess the name of that school.
Kansas, heading into the third season of a David Beaty rebuilding project that started with an 0-12 season and continued with a 2-10 mark, checks in at No. 101. Purdue of the Big Ten is next-lowest at No. 97.
Interestingly, all 11 FBS schools on KU's schedule have a higher FPI than Kansas, including Week 2 opponent Central Michigan, ranked No. 85, and Week 3 foe Ohio, No. 91.
Using FPI, and adjusting to favor the home team, ESPN.com predicts the percentage chance each team has of winning a particular game on the schedule. The website gives Kansas less than a 50 percent chance in each game on the schedule, other than against Southeast Missouri State in the season-opener. It also should be noted that the game vs. Central Michigan is a virtual dead heat.
KU's chance of victory, per FPI, for every game on the schedule: SEMO (91), Central Michigan (49.8), at Ohio (35.5), West Virginia (21.9), Texas Tech (26.7), at Iowa State (19.7), at TCU (3.8), Kansas State (12.4), Baylor (14.5), at Texas (5.2), Oklahoma (2.5), at Oklahoma State (5.5).
Kansas is 1-20 in its past 21 Big 12 games, so I get that the Jayhawks heading into the season are underdogs in every conference game, but a few of the numbers seemed a little strange.
I agree that Texas Tech in Week 5 represents the best shot at a Big 12 victory, but think the game ought to be considered closer to a coin toss than one in which Kansas has just slightly better than a one in four chance of winning.
Also, the Longhorns no doubt will be in payback mode and won't be playing for a lame-duck coach, but Kansas players also will be jacked for the game to prove that their school's first victory against Texas since 1938 was no fluke.
And Kansas almost always plays TCU tough, so even given the 41-game road losing streak and an eight-season conference road losing streak, you have to believe the Jayhawks have better than a 3.8 percent chance of pulling off the upset.
Several tangible reasons exist for believing the Jayhawks will be better than the preseason projection that has them outside the top 100.
To name a few, Peyton Bender and Carter Stanley are more equipped to perform in an Air Raid offense, in which they have spent their entire high school/college careers, than Montell Cozart and Ryan Willis. David Beaty will benefit from surrendering offensive-coordinator duties, including play-calling, and Doug Meacham's presence should be a big boost. Depth is improved at defensive tackle and linebacker. The offensive line is deeper, more experienced, more physically ready than a year ago. An increased emphasis on flexibility brought by strength and conditioning coach Zac Woodfin should help. Newcomers Daylon Charlot, the Alabama transfer, and emerging Chase Harrell, give Steven Sims company as potential playmakers at wide receiver, and additions at running back, Dom Williams and Octavius Matthews, could more than compensate for the loss of Ke'aun Kinner, who will be missed.
Sometimes intangible gains can be nearly as important. The comeback victory against Texas late last season showed the players they can win in the Big 12 and that will allow them to play with freer minds, more confidence, at the end of close games.
None of that, of course, will make the schedule any easier.
Here's how the Big 12 shapes up nationally, per ESPN's FPI: Oklahoma (4), TCU (18), Texas (25), Oklahoma State (26), Kansas State (30), Baylor (34), West Virginia (48), Texas Tech (51), Iowa State (67).