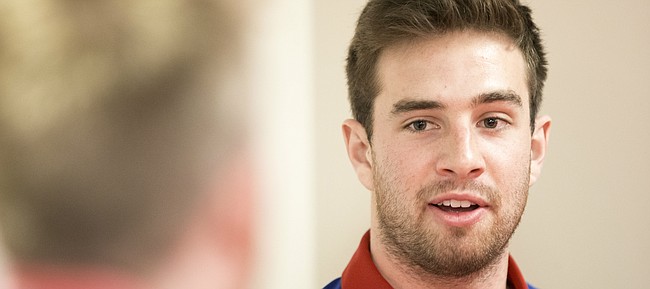 A junior college quarterback sitting in his dorm room in Fulton, Mississippi, Peyton Bender answered a phone call from a random number this past October, unaware the conversation that followed would get him back to playing football in a Power Five conference.
The voice on the other end introduced himself as Rob Likens, an offensive assistant coach with the University of Kansas at the time.
Bender, in the midst of a stellar sophomore season at Itawamba Community College, had been recruited by some FCS teams since he left Washington State to play at the juco level. But no BCS team had shown interest in him. Not until his surprise call from KU.
Likens, who has since moved on to work at Arizona State, told Bender, a 6-foot-1, 180-pound QB, the staff liked what they had seen of him on video and they would keep in touch.
"I talked to Coach (David) Beaty, I think the next day," Bender recalled Wednesday while speaking with media for the first since enrolling at KU for the spring semester, "and they ended up offering me and coming down to see me that week."
KU's head football coach watched the former WSU backup throw in person, and it confirmed what he had seen on Bender's highlight reel.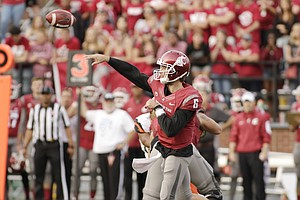 "One of the things that drew me to Peyton right away was his quick release," the third-year KU coach said. "His release is about as clean and as quick as I've been around in a long time… And a quick release does a lot of things for you in this game, and particularly in this league, when those windows open and close so fast, and if you can't get the ball out quick, it makes a huge difference."
Before long, Bender was making plans to visit Kansas on the weekend the Jayhawks faced Texas at Memorial Stadium.
"It was awesome coming here," Bender said of being in Lawrence when the Jayhawks knocked off the Longhorns, "especially after a tough season they had been going through."
Between his interaction with Beaty and the other coaches and getting a glimpse of KU's potential, Bender could see himself wearing crimson and blue and playing football in the Big 12. The former high school standout at Cardinal Gibbons High, in Fort Lauderdale, Florida, stuck to those impressions, too. Georgia, the program he grew up watching and cheering for with his father, Mike, made a late push to get Bender, but the QB stayed with Kansas and signed in December.
"You know, I really like the coaching staff," Bender said. "I feel like they're really sincere guys when you talk to 'em. Like I've said over and over, Coach Beaty's a great guy. He's a player's coach and that was someone I wanted to play for."
Admittedly, the chance to get on the field in 2017 as a junior influenced Bender's thinking, too. He spent his redshirt in his first year at Washington State, before appearing in five games for WSU in 2015. He only has two years of eligibility remaining.
"I made sure the coaches were clear about that with me and I was clear about that with them," Bender said. "I'm going somewhere because I want to play. They told me what they thought and told me I was gonna have the chance to compete, and I thought they were honest about that, and that's why I decided to come."
Though Kansas quarterback Carter Stanley entered the offseason as the incumbent starter after helping the Jayhawks beat Texas as a redshirt freshman, Beaty made it clear in December he expects Bender and Stanley to compete for the No. 1 spot on the depth chart in the months ahead.
"I don't really pay attention to what the coaches are saying about the competition," Bender offered, when asked about the coach's proclamation. "It's up to me to go out there and perform as best as I can, no matter who it is, whether it's competing with four guys or two guys. At the end of the day, I'm just trying to go out there and do the best I can."
As his head coach also has previously discussed, Bender's familiarity with the Air Raid made KU a good fit for him, too, and could help him as he tries to win the starting job. Bender, who studied the offense extensively under WSU coach Mike Leach, said he knows roughly 80 percent of the Jayhawks' system at this point.
"There is variation from Air Raid to Air Raid," the junior QB said. "All the coaches like to put their own twist on certain things. But we've been doin' seven-on-sevens and it's almost identical to what I've been doin'."
For Bender, the next significant step comes during the spring, on the KU practice fields located more than 600 miles away from a Mississippi junior college where his phone rang out of the blue one night not too long ago.