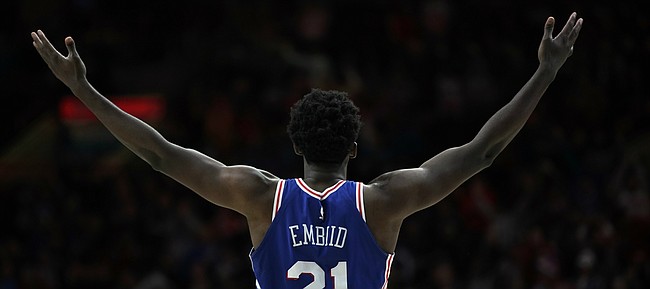 Former Kansas center Joel Embiid has officially taken over the NBA and he's not afraid to let everyone know about it.
But there's one man who saw it coming long before the player they now call The Process ever actually suited up for an NBA game.
That man is Kansas coach Bill Self and Self recently told the Journal-World that the entire Embiid experience which dominates headlines, fills up highlight shows and fires up even the best and baddest players in the league, was something he knew Embiid had in him from the first time he saw him play.
"One day when I went down there to watch him, I saw him go after a kid," recalled Self of a trip to Gainesville, Fla., while recruiting Embiid to Kansas prior to the 2013-14 season. "The kid hit him and there was no doubt he was going after that kid. He has a very nasty streak and I knew that he wasn't the least bit intimidated or soft about anything."
Other than his touch around the rim and footwork, of course. When asked recently if he saw any weaknesses in Embiid's game while he was recruiting him, Self spit out the word "no" even before question was finished being asked.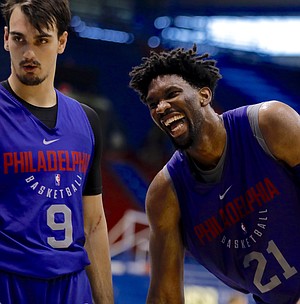 "I thought he was a great passer, vision, intellect, he could shoot, he could score on the block, he was a good rim protector," said Self, before bending his mind just a little to think of one area — both then and now — in which Embiid may have underachieved. "If anything, I don't think he's as good a rebounder as he should be, if I was going to be nit-picky. But he's still getting 11 a game, so..."
Embiid's mean streak, though manifesting itself at Kansas in the more mild-mannered thumb-and-index-finger pointing the gun celebration after a big bucket, is one Self said he would like to see current 7-foot center Udoka Azubuike discover.
While the two have been compared because of their massive size and African roots — Embiid from Cameroon, Azubuike from Nigeria — Self reiterated that there was no comparing the two when it came to basketball skills. But there actually is one area in which Self said he would give the edge to Azubuike at this point in their college careers.
"The skill set's obviously unbelievably different," Self began. "But Dok is a bigger specimen than Jo was when he was here. (Embiid) was a little thin and everything. Dok, physically, can do some things better than Joel, but Joel had a nasty streak that Dok hasn't developed yet."
Through the first 24 games of his first full NBA season, Embiid is averaging 23.7 points, 10.9 rebounds and 1.9 blocks per night. That's after averaging 20 and 8 in 31 games last season after injuries created a two-and-a-half-year delay to the start of his NBA career.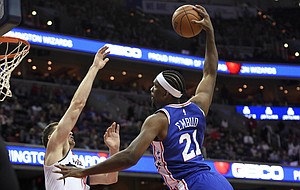 Injury concerns and a routine of closely monitoring his playing time continue to be everyday parts of life and keep the big man's megastar future from being a sure thing. But most believe that, if healthy, Embiid is positioned to become not only the face of the Philadelphia 76ers, but potentially of the NBA and one of the franchise's biggest stars of all time.
"He's going to grow into a superstar's role," Self said. "But he's doing great. I love the charisma and all that. But he does talk a lot. It's unbelievable. I look at him and I say he's the craze of the league and everything, but I also wish, I mean there's sometimes he could tone it down a little bit. But, I also know that personality and charisma also sells and it's probably put him in position to make quite a bit of money off the court, as well. He's proven that he's a pretty bright marketer.
"I watch him as much as I can," Self continued. "But I look at his stats every game."