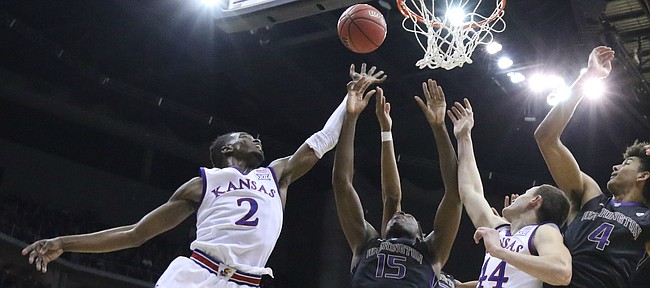 No. 2 Kansas Jayhawks (7-1) vs. No. 16 Arizona State Sun Devils (8-0)
Time: 1 p.m. | Location: Allen Fieldhouse, Lawrence, Kansas
TV: ESPN | Radio: IMG Jayhawk Radio Network
Log on to KUsports.com for our live game blog coverage and follow the KUsports.com staff on Twitter: @KUSports @mctait @TomKeeganLJW @bentonasmith @nightengalejr @chasenscott & @nickkrug
Keys for Kansas
1. Time to bounce back
Losses happen, sometimes out of nowhere, and the key for Kansas is to respond to Wednesday's stunning setback to unranked Washington at Sprint Center with a strong effort in this one against a team that is more than capable of beating the Jayhawks.
While the challenge of facing a Top 20 ASU team that already boasts a convincing victory over No. 13 Xavier directly after a disappointing loss could be viewed as bad timing. It more likely figures to be good timing for the Jayhawks, who know they will have to be sharp in all aspects of the game in order to knock off the Sun Devils.
"We just weren't as turned up as we needed to be," sophomore forward Mitch Lightfoot said of KU's recent setback. "I thought we were more turned up than we were, but, once you see the film, film doesn't lie."
Added KU coach Bill Self: "I saw a team that looked tired, sluggish, running in quicksand and we looked very slow, not very enthused (Wednesday night vs. Washington). It's a long season. And we were not going to run the table. And it won't be the last time that happens this year. So if we can learn from it and be better from it, it'll be OK. But, certainly, we need to learn from it."
2. Score some points again
After averaging 94.5 points per game through the first six games of the season, the Jayhawks have seen their scoring dip in the past two.
Kansas scored just 76 points in a victory over Syracuse last weekend in Miami and followed that up with an ice-cold 65 point effort in Wednesday's loss to Washington.
Returning to Allen Fieldhouse, where KU has scored 96 points or more four times already this season, should help and so should the fact that the Jayhawks figure to be extra focused on ball movement and getting out in transition, given their struggles in both areas during the past two games.
Unless the Kansas defense took a huge step forward during the practices leading up to this one, KU will need to score to keep up with an Arizona State squad that is averaging 91.4 points per game itself.
"They're going to get up and down," Self said of Bobby Hurley's ASU squad. "And they definitely score. Hey, K-State can really guard and they hung a 92 on them. And Xavier's really good and they hung 102 on them. They're very good offensively."
3. Get to the free throw line
Arizona State enters Sunday's game having shot 143 more free throws than Kansas so far this season. That's in the same number of games.
That includes a 23-of-27 clip at the free throw line during a Friday night victory over St. John's in Los Angeles, and the Sun Devils enter Sunday's game shooting 73 percent from the free throw compared to 72 percent for Kansas.
While the percentages are similar — along with these two teams and their styles of play — whichever team is able to get to the free throw line more in this one could have a monster advantage.
For one, free throws are free points — or at least should be — and in a game where the scoreboard figures to be busy, something as simple as four or five extra trips to the line could prove huge. For two, because neither team has much depth and a high free throw total for either side could spell depth issues for the opponent.
"That's going to be important," Self said. "But you can't worry about fouling. When you play that fast, you should get to the foul line more, (and) we've done a crap job of getting to the free throw line this year."
Mega Matchup
KU senior Devonté Graham vs. Arizona State senior Tra Holder
It's a clash of senior guards in this Top 20 showdown, with KU's point guard and second leading scorer squaring off with Arizona State's and the Pac-12's leading scorer in what should be an entertaining and back-and-forth battle.
While there's no question that Graham can score with Holder, the more important issue might be whether he can slow Holder down.
Holder is a pure scorer who can get it done outside and on the drive. The fact that he has the ball in his hands nearly as much as Graham does for Kansas makes this matchup even more intriguing. Although Graham has proven that he can be an above-average defender, Self has said it's not necessarily the best thing for this KU team to have Graham carry the load as a scorer and defender.
Perhaps the most interesting aspect of this head-to-head battle involves Holder defending Graham, who disappeared during the Jayhawks' loss to Washington. There's no doubt that the KU senior, who is averaging 16.6 points per game and leads Kansas with 61 assists and 18 steals, will look to force the issue more offensively, choosing not to settle simply for 3-point jumpers and, instead, attacking off the dribble.
If Holder, who averages a Pac-12 leading 22.1 points (which ranks 17th nationally), is up for the challenge of slowing Graham down, it would significantly increase ASU's chances the same way Graham locking up Holder would KU's.
Jayhawk Pulse
Coming off of their first loss of the season, the Jayhawks return to Allen Fieldhouse with a golden opportunity to get right back on track against one of the nation's few remaining unbeaten teams in Arizona State.
While Kansas no doubt would like to bounce back in a big way, Lightfoot said the motivation for his team to do so had a lot more to do with what Kansas needs than being the team that hands Arizona State its first loss.
Although he can't play in this one, Arizona State transfer Sam Cunliffe may wind up playing his biggest role as a Jayhawk to date in that he can provide detailed information about KU's opponent, given the fact that Cunliffe spent a summer and last season's first semester playing with Bobby Hurley's program.
Both Lightfoot and Svi Mykhailiuk said Cunliffe this week tried to provide mini-scouting reports on all of ASU's top players
"He came at Christmas and was with the (ASU) team for five or six games, so I'm not sure he can help us near as much as what our scouting stuff does and things like that," Self said of Cunliffe. "But as far as personnel and things like that, there's no question he should be able to help."
Probable Starters
Kansas
G – Devonté Graham, 6-2, 185, Sr.
G – Malik Newman, 6-3, 190, Soph.
G – Svi Mykhailiuk, 6-8, 205, Sr.
G – Lagerald Vick, 6-5, 175, Jr.
C – Udoka Azubuike, 7-0, 280, Soph.
No. 16 Arizona State
G – Tra Holder, 6-1, 180, Sr.
G – Shannon Evans II, 6-1, 172, Sr.
G – Kodi Justice, 6-5, 190, Sr.
F – Romello White, 6-8, 235, RS-Fr.
F – Vitaliy Shibel, 6-9, 210, RS-Fr.