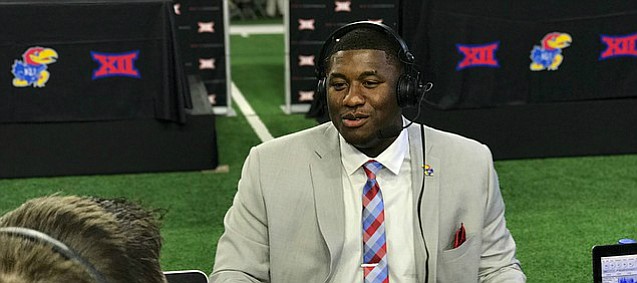 When Hakeem Adeniji and Daniel Wise returned to their home state for Big 12 football media days last month, they had some special guests by their side.
It was the first time both players represented the Kansas football team at media days in Frisco, Texas, and it was an easy decision to invite their parents to be a part of their experience.
Throughout a day filled with interviews, photos and television appearances, Adeniji and Wise didn't mind posing in a few extra pictures for the people who have supported them every day since they first put on pads.
"They are a big reason that I'm here," Adeniji said. "I can't thank them enough, for sure."
Both sets of parents watched their sons with pride throughout the day, honored that they were two of the few players selected in the conference to speak on behalf of their respective programs.
"I just wanted to experience it with him and always been a part of his life since Day One," said Daniel Wise's father, Deatrich Sr. "Just been there for all the firsts."
Adeniji, a 6-foot-4, 290-pound sophomore left tackle, has grown in many ways since he left home.
Unable to play at Air Force, where his brother played, because of a cashew allergy, Adeniji started all 12 games as a true freshman. In the offseason, he followed his strict diet and added 25 pounds.
"Every time I see him, he gets bigger," said Adeniji's father, Semia.
Adeniji's mother, Joke, admits it was unexpected when Adeniji earned a starting position out of fall camp. But she noted that her son has always displayed a level of maturity beyond his age and credits KU coaching staff for tapping into his strengths.
"He's a self-made individual, let me put it that way," Joke Adeniji said. "He is his No. 1 cheerleader. He is very focused. He knows what he wants to get out of whatever that he's doing and he will try to figure that out by himself."
Wise, a junior, redshirted during his first season, went through a coaching change and gradually transformed himself into one of the top defensive linemen in the Big 12.
The 6-3, 290-pound defensive tackle ended last season with 38 tackles, three sacks and 10 tackles for loss.
When David Beaty replaced Charlie Weis at the head of the program, Wise's parents said Daniel immediately let them know that he wanted to stay at KU.
"His first reply was that he's not leaving the team because the team is going through this together," Wise's mother, Sheila, said. "I said, 'OK, that's how you're feeling. I'm rolling with you.'"
Deatrich Wise added: "I see a change in his body. I see a change in his attitude and behavior. I mean all of it's positive but I see a lot of growth and I've seen it since the time Beaty has gotten there. Real excited about it all and through all of the changes, it was his decision to be a Jayhawk."
Adeniji didn't have to go through a coaching change, but he had an abbreviated recruiting process when he couldn't play at Air Force and had to look elsewhere.
"When he got there, we barely knew anybody," Joke Adeniji said. "But we grew gradually to know about them. It's family. I remember when he texted me, I think it's like three weeks after he got there or four weeks. He says, 'Mom, I think I found a place I can call home.'"
When the Jayhawks earned their signature win of the season against Texas, 24-21 in overtime, last November, it was just as special for all of the parents in the crowd.
"It was an indescribable feeling," Joke Adeniji said. "Then they had to go tear down the (goal posts). I'm looking for my child, 'Don't hit the thing on his head.'"
For both sets of parents, they enjoyed going through all of the media day festivities and were thrilled that their sons were chosen.
"He loves KU," Sheila Wise said of Daniel. "He loves the game of football. It's just such a joy to watch him in action off of the field. To me, he's just such a charmer. He's a sweet guy. But on the field, don't get in his way. He's in beast mode."