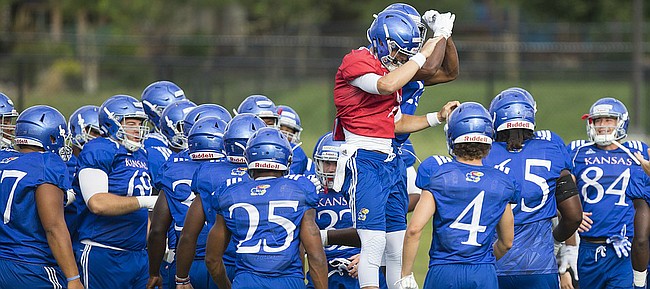 Kansas football coaches and players are aware of the dangers of their sport. Head injuries, including concussions, have become a popular topic.
With a bigger focus in movies, TV shows and elsewhere, they are confident that football is moving into a safer direction.
But there's still room to grow, especially when it involves younger players.
KU defensive coordinator Clint Bowen wouldn't be surprised to see flag football leagues surge in popularity across the country and wishes there was a viable opportunity for youth players in Lawrence.
"It's something that I've thought about a lot because I've got two young boys," Bowen said. "I wish it was almost mandatory. I wish tackle football didn't exist, to be honest, until the kid was past the sixth grade."
There's been a greater awareness of concussions and potential lasting effects for NFL players throughout the past decade.
In a Boston University study recently published in the medical journal JAMA, chronic traumatic encephalopathy (CTE), a degenerative brain disease, was diagnosed in 110 of 111 former NFL players and in 177 of the 202 deceased players across all levels of play. The disease, which can sometimes lead to depression, memory loss and dementia, can only be formally diagnosed through postmortem examination.
It wasn't a random study — all of the brains were donated because there was a belief of CTE or other forms of brain damage. But it sent shockwaves throughout the sport because of the high percentages.
KU football players said they understand the risks involved with playing such a violent sport, and they are convinced they are more protected than ever. They point to the technological advances in their equipment, including helmets, and the changes in officiating in terms of targeting or hitting defenseless players.
"Especially when you're at a level like this they give you the most protective stuff possible" sophomore cornerback Hasan Defense said. "I feel very safe. I feel like there's no problems, and if I do, I know we have the right trainers and right staff to help me get back healthy as soon as possible."
Earlier this year, the NCAA eliminated two-a-day preseason practices in part to help prevent concussions in practices.
Even before the end of two-a-days, college football programs took steps to limit the amount of tackling in practice. At the high school level, the Kansas State High School Activities Association limits live action drills — game-like conditions where players are tackled to the ground — to 90 minutes per week.
"I know it's definitely important but, I'm not going to speak for anyone else, I just love this sport and you know the dangers when you play it," KU sophomore quarterback Carter Stanley said.
For the Jayhawks, offensive coordinator Doug Meacham said one of the reasons the team uses grass fields for some practices is to give players a softer landing compared to turf.
"It's just a different game now," Meacham said. "Football was just based on who was the meanest guy in the world, you know. Now it's more about speed, athleticism and obviously you want physical players, but you just watch the game and it's just different — particularly linebackers and people on defense."
In terms of safety, Kansas coaches are confident the sport is moving in the right direction. They have their own horror stories of how concussions were mistreated during their playing days. Meacham recalled one practice where he was playing fullback at Oklahoma State and his helmet split into half during a play. Back then, there wasn't a concussion protocol.
Despite all of the safety measures and advancements in technology, coaches are a little hesitant of having their kids play the sport at such a young age.
"I've got two little boys and I'm not real fired about them just putting helmets on at age 7 and playing football," KU offensive line coach Zach Yenser said. "Obviously you have to kind of pump the brakes. I think the biggest thing is who is coaching them and teaching them how to (play) properly."
Yenser encourages his players to be honest with trainers and the coaching staff about any of their head injuries. He stresses it's important for coaches, in return, to listen to players whenever they speak up.
"In this day and age, you've got to really pay attention to what guys are telling them," Yenser said. "Listen guys, it ain't worth trying to hide something. It ain't worth hiding a concussion. It ain't worth it, man.
"That doesn't mean don't play this game, but be safe and let your training staff take care of it. And if you don't feel right, you've got to say something. As coaches, we have to be responsible to say, 'OK, yeah.' We can't get mad at them."
KU coaches said it's important to stay up to date on studies about head injuries. Through all of the changes in officiating, equipment and the way the game is taught, all those involved want to do their best to help players stay healthy.
"It's a violent game," Yenser said. "It's a dangerous game. It is what it is. There's no hiding that. You make a choice to play.
"I'm not a fan of my son putting a helmet on before too young. But I think in our position, we just have to do a good job of paying attention and listen to our guys."