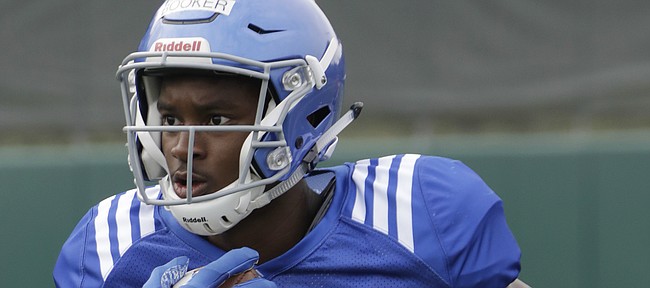 After 10 practices worth of playbook install, drills and meticulous buildup designed to keep players healthy throughout the preseason, the Kansas Jayhawks finally on Friday experienced their first thorough camp scrimmage.
While third-year head coach David Beaty said KU previously went through two "mini-scrimmages" involving roughly 60 live plays apiece, he described the morning's activity as the initial "big scrimmage" since the team opened camp July 31.
The closed practice featured more than 100 competitive snaps of offense versus defense. Beaty said the majority of those reps went to players they considered to be first- and second-stringers.
"It will tell us whether or not we have some cracks in that," Beaty said of KU's 2-deep three weeks before the Sept. 2 season-opener against Southeast Missouri State. "And then we have a lot of guys that we're working in that might not have been in the 2-deep that are going to have an opportunity to break into it. There will be a couple of guys that after today that will change, which will be good."
Photo Gallery
KU football practice Aug 11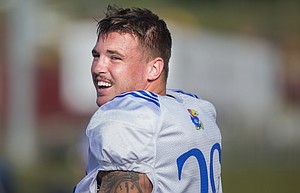 View a gallery of images from a tour of the newly-constructed Downs Hall at KU.
Beaty offered few details on the scrimmage and said he had no update on the quarterback competition between junior Peyton Bender and redshirt sophomore Carter Stanley.
But when asked following practice to identify the most encouraging development for the offense, Beaty referenced the play of Bender and Stanley.
"Watching them manage adverse situations and overcoming long sticks. Understanding how to get half back and not having to go get all of it on one play was good to see," Beaty said. "Watching them take care of the ball — I don't think they turned it over at all offensively today."
First-year KU offensive coordinator Doug Meacham also left the scrimmage feeling positive, particularly regarding the aforementioned ball security.
"No turnovers," Meacham replied, when asked what he saw from his group. "Period."
The former TCU co-coordinator, of course, did notice other aspects.
"The first two drives were three-and-out, and then beyond that we moved it really well and did some nice things," Meacham reported. "That's the kind of attitude we're trying to get to."
Whether the offense was moving down the field or just going through red-zone simulations, Stanley said the scrimmage also provided a welcome change to the routine and varying challenges.
"It was cool. Definitely got in some different situations," Stanley said. "For some of that stuff you have a different mentality. You've got to be smarter about not taking sacks, be careful with the ball, all that stuff. It's fun to get out there and make some plays with the guys."
The numerous looks provided to the quarterbacks, skill players and offensive linemen at the practice reinforced much of what the Jayhawks felt good about leading up to the scrimmage. Bender estimated the offense looked on the same page for 90 percent of the snaps.
"Everyone was doing their job. We didn't do anything special today, but we executed real well," Bender related. "It's just us making the routine plays. Make the routine plays and if you can do that, and consecutively do that then good things are going to happen."
Both quarterbacks, when asked for a single play that stood out to them, referenced separate highlights delivered by the same receiver, junior Jeremiah Booker.
For Stanley, it came on a fourth-and-short.
"I threw him a quick out route," Stanley said of a key connection with the 6-foot-2, 200-pound wideout from College Station, Texas. "He broke one tackle and ran down the sideline for like 30 or 40 yards."
Booker helped Bender look good in a goal-line situation. The junior QB said KU lined up in a big set, with three running backs and two receivers. Bender had a one-on-one outside with Steven Sims Jr. and Booker going on a vertical.
"I looked left. I had Steven first and the corner squatted on him and I got back over to Jeremiah and threw him what I thought was a good ball and he went up and made a good play on it for a touchdown," Bender said. "That kind of got me fired up and juiced up for today."
According to Bender the only giveaway from the offense — a Kyle Mayberry interception — was negated by a defensive holding penalty.
Still, junior defensive end Dorance Armstrong Jr. said players on the other side of the ball felt encouraged about their day, too.
"I think being able to stop the run. That's huge for the defense," Armstrong said. "Offense came out with a lot of tricks, so I think that's where they took their shots at. They got most of their explosive plays over the top. But I feel like we're making a step forward."
While Armstrong didn't single out one snap as a highlight, he enjoyed a trend from the defense.
"I like to see a lot of white jerseys around the ball at the end of the play," the Big 12's preseason Defensive Player of the Year said. "That's a sign that everybody's trying to make the same play. I think if we have that throughout the whole game we can't go wrong."