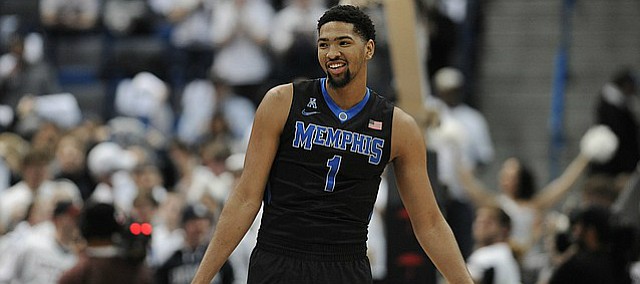 While Sunday's news that Devonte' Graham was returning for his senior season brought with it excitement for the immediate future of Kansas basketball, Monday's news carried visions of even more excitement down the road.
Through information obtained from their father, Keelon, Gary Parrish, of CBS Sports, reported late Monday morning that brothers Dedric and K.J. Lawson of Memphis had decided to transfer to Kansas. K.J. Later confirmed the news via Twitter by Tweeting simply, "ROCK CHALK JAYHAWK."
The two Memphis natives will sit out the 2017-18 season per NCAA transfer rules and be eligible to play during the 2018-19 season.
Talking on Parrish's radio show Monday afternoon, Keelon Lawson said two other Memphis natives who have KU ties played a role in leading the Lawson brothers to Kansas.
"Dedric talks to Tarik (Black) a lot," Keelon said of the former KU forward. "He talked to Tarik last summer and Tarik used to tell Dedric, 'Man, you're way better than I am, way more talented.' Tarik told him, 'If I had to do it all over again, I would've went straight there (to Kansas).' Dedric also talked to (current Jayhawk) Lagerald Vick and he told him, 'Hey man, it's special out here.'"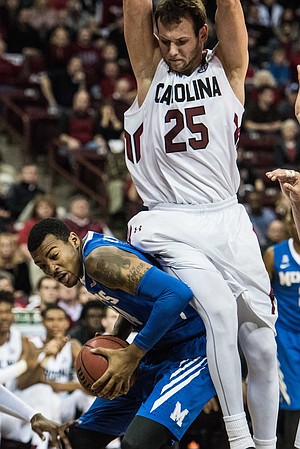 Keelon Lawson also said seeing the way the KU coaching staff handled the transfer of Malik Newman benefited the Jayhawks.
Last season, the Lawson brothers combined to average more than 30 points, 18 rebounds and 6 assists per game for Tubby Smith's Tigers, who finished the season 19-13.
Dedric Lawson, a 6-foot-9, 236-pound sophomore and former McDonald's All-American who, according to his father, liked Kansas before committing to Memphis, averaged a double-double — 19.2 points and 9.9 rebounds per game — while his brother, K.J Lawson, a 6-7, 210-pound, red-shirt freshman, averaged 12.3 points and 8.1 rebounds per game.
Both players committed to former Memphis coach Josh Pastner, who has since moved on to Georgia Tech.
Said Pastner in an interview with the Memphis Commercial Appeal shortly after the duo signed in 2014: "I think both K.J. and Dedric are very talented young men. Both have been around winning. They're high-IQ players. They're long. They've got a very good skill set and good motors."
Pastner also called the brothers "good character people."
Their father held a full-time coaching position on Pastner's staff but was demoted after Smith arrived in town.
Keelon said on Parrish's radio show Monday that if he had kept his job as a full-time assistant on Smith's staff, his sons would not be going anywhere.
According to Keelon, KU coach Bill Self was in Memphis on Sunday. Because the brothers had not yet signed with Kansas as of Monday, Self could not comment on either player.
Those familiar with their games could.
Recruiting analyst Eric Bossi, of Rivals.com, called both players "impact guys."
"Getting these guys with college experience in your program is a pretty big deal," Bossi told Shay Wildeboor of JayhawkSlant.com. "With Dedric, you are talking about a first-round NBA draft pick. He is a guy who, assuming he's as good as he has been, is someone who can compete for the Big 12 player of the year (and) K.J. is a potential all-league type player."
According to Rivals, both players were 4-star prospects in the prep class of 2015, with Dedric, who was ranked No. 33 nationally, reclassifying up to join his brother K.J., who was ranked No. 54 nationally.
Bossi also said Dedric compared favorably to former KU lottery pick and 2011 Big 12 player of the year Marcus Morris.
According to Parrish's report, the latest recruiting haul by Kansas, which also featured an assist from Kansas assistant Kurtis Townsend, might pay dividends beyond the next two seasons, as Dedric and K.J. have two younger brothers — Chandler and Johnathan — who are top prospects in the 2019 and 2021 classes.
Beyond that, their cousin, D.J. Jeffries, also is a Top 10 player in the 2019 class.
Though ineligible next season, the Lawson brothers will be able to practice with the team all year, providing some tough competition for KU's rotation players on a daily basis throughout the year.
Dedric Lawson will have two years of eligibility remaining after sitting out the upcoming season and K.J. Lawson, if he applies for and is granted a sixth year of eligibility because of injury issues earlier in his career, would have three years of eligibility remaining.