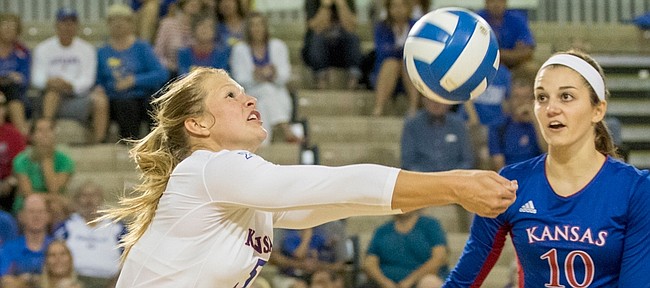 The Kansas volleyball squad, ranked No. 4 in the nation, undergoes its final weekend of testing its Big 12 readiness against quality nonconference competition on the campus of Purdue in West Lafayette, Indiana.
Kansas plays Xavier (11 a.m.) and Purdue (6:30 p.m.) today and Southeastern Louisiana at noon Saturday.
The Jayhawks then open Big 12 play Wednesday at home vs. Oklahoma at 6 p.m., followed by a trip to Austin to play Texas, ranked No. 2 in the nation, Saturday, Sept. 24 at 7 p.m.
"This is a great weekend to see Xavier and Purdue and transition into Oklahoma and Texas because obviously Oklahoma is playing at a high level and Texas is No. 2 in the country," Kansas coach Ray Bechard said. "Purdue will provide the same type of physicality that we'll see in those teams and Xavier, the speed that Oklahoma plays with, there is a lot of correlation there. So it's a good weekend. Now we need to go play well, see what happens."
Purdue, which won at Stanford, is ranked No. 14 in the nation.
Bechard described the Boilermakers as "physical, athletic, extremely aggressive offensively. Purdue's got some extremely dynamic attackers, much like we'll run into when we face a team like Texas."