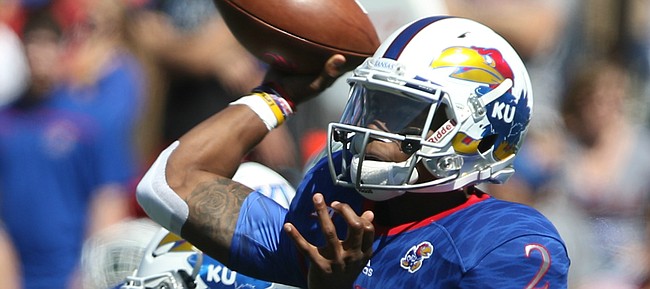 Kansas football coach David Beaty likes referring to third down as the "money down." In Saturday's home loss to Ohio, his Jayhawks went broke on offense, going 0-for-8 on third-down conversions.
When reviewing the numerous issues that plagued KU in Week 2, as Beaty and his players prepare for their first road game of the season at Memphis, the head coach pointed to first-down ineffectiveness leading to money-down failures on both sides of the ball.
Ohio went 2-for-3 on third downs in the first quarter, and 3-for-7 in the second before finishing the game 9-for-22.
"Third down, we have got to be way better than 0-and-8 offensively and then we have to be better than 9-of-22 (defensively), because 9-of-22 in itself doesn't look terrible, but 5-of-6 early in the game, that will kill you," Beaty said of a loss in which KU fell behind by 25 points in the first half. "You've got to get off the field early — 5-of-6 early, you've got to get off the field, and we had opportunities to do it, and we're the ones that did it."
Podcast episode
After suffering a 37-21 loss against Ohio, Kansas football coach David Beaty met with the media to talk about what went wrong in that loss, his decision to take coaching responsibilities on punt return, looking ahead to Memphis and much more.
Beaty said KU's offensive struggles in the first half made things more difficult on the defense, but he refused to give the defense a pass for failing to force Ohio punts.
"Now regardless, you have to be good on the money down," Beaty said. "… Doesn't matter whether it's third-and-long, third-and-short, third-and-medium, you have to be good there. We were 0-of-8 on those opportunities. Just got to be better. That's a chore for all of us, not just our players."
KU's game plan at QB
In the Jayhawks' first loss of the season, junior Montell Cozart played almost exclusively at quarterback — a change from the previous week, when sophomore Ryan Willis got more reps against Rhode Island.
Against Ohio, Cozart completed 17 of 24 pass attempts for 198 yards and two touchdowns. Willis threw just five passes, completing one for eight yards, with an interception.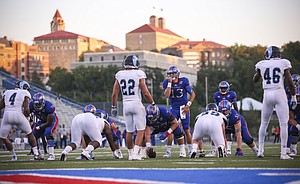 Beaty described KU's QB situation for Saturday's game at Memphis as "very similar," adding Cozart looked healthy at Monday's practice.
"He took a couple of big hits in that game," Beaty said. "I was proud of him. He stood in there and took some hits. He got hit right in the teeth a couple of times. A couple of them were just borderline — we might have gotten calls for it, which you'd like to see."
Willis completed seven of nine throws for 144 yards and two touchdowns against Rhode Island in a win. Asked how he was handling his evolving role within KU's offense, the sophomore responded: "Umm… I mean, it's different. I don't have much to say about it."
Cozart certainly didn't perform flawlessly versus Ohio while emerging as the clear starter. In particular, Beaty pondered how KU's chances might have improved had the QB connected with a "wide open" LaQuvionte Gonzalez on one first-half throw that looked like a sure TD.
"He kind of got on me about that one," Cozart said, "because he said, 'We need that. We need that play. You never know what that play could've done for the rest of the game.' And I feel like that play would've sparked us. No doubt. It was a big play and it was a play early on that it was a shot, and you don't have that many shots in a game — and that one was there. So we've gotta take advantage of it when it comes up again."
Beaty chose not to reveal Tuesday whether he would rotate Willis in at QB against Memphis (1-0).
'Yoda' joins The Dark Side
Former Kansas kicker Nick Bartolotta, who left the program during the offseason, emerged at former KU arch rival Missouri.
The 5-foot-6 field-goal kicker whom Beaty affectionately dubbed 'Yoda,' after the tiny Star Wars character, made four of seven field goals for the Jayhawks in 2015, with a long of 40 yards.
Bartolotta, now a junior, isn't listed on Mizzou's depth chart.