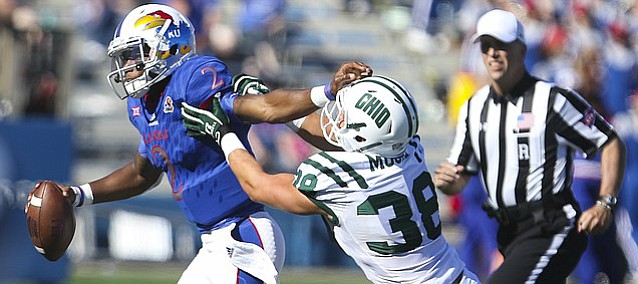 The first thing Kansas quarterback Montell Cozart thought about when he slammed into the turf in front of the KU bench on the fourth snap of the fourth quarter of Saturday's 37-21 loss to Ohio was a play that came 343 days earlier and ended his 2015 season.
On that one, a scramble in Ames, Iowa, late in the third quarter of a 38-13 KU loss to Iowa State, Cozart hit the turf and felt his left shoulder bend back underneath him. The trauma was enough to knock him from the game — and ultimately the rest of the season — and the junior had no problem saying those memories had him scared after the hit that knocked him out on Saturday.
"A little bit," he said. "But, you know, we've got great doctors and stuff. They did the tests and I passed everything and I was fine."
That was after the tests, which included an X-ray on Cozart's left, non-throwing shoulder. Before then, Cozart admitted to having heavy flashbacks to that hit in Iowa a season ago.
"Yeah. Definitely," he said. "Coming off the field, I had that same feeling a little bit. But everything ended up good so I was happy."
For a quarterback who has both battled frequent injuries and had his toughness questioned throughout his career, finding a way to stay on the field while still playing fearless football has been an ongoing challenge for Cozart. But the fourth-year junior who received an extra year of eligibility following last year's injury said his mindset has never changed.
"In the game, you're not thinking about that, you know," he said. "You're just trying to make a play, just trying to get the extra yards and keep the guys on the field so we can go down and score."
It didn't happen on Saturday, of course. The Jayhawks punted on the next play and did not score a point in the fourth quarter. Both Cozart and Kansas coach David Beaty hope and believe KU's starting quarterback will be available this week at Memphis.
Asked if he'd continue to fight for yards in the future, even if it meant getting rocked again, Cozart's answer proved he didn't plan on changing anything.

"Definitely," he said. "Every time."
---