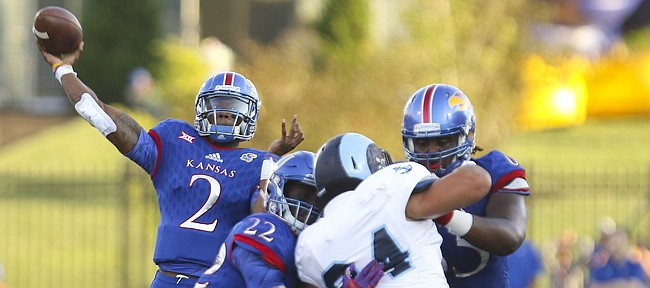 Styles make fights on the football field, too, not just the boxing ring.
Contrasting styles tend to make the most exciting fights, regardless of the venue.
That and many other factors make Saturday's 1:30 p.m. kickoff pitting visiting Ohio vs. Kansas as intriguing, difficult-to-forecast a football game as has been played at Memorial Stadium in a few years.
The programs themselves have so little in common.
Ohio has had the most stable coaching staff in the country since former Nebraska coach Frank Solich was hired in 2005. Solich has had one offensive coordinator, Tim Albin, and one defensive coordinator, Jimmy Burrow, in his 12 seasons in Athens, Ohio. During that time, Kansas has had four head coaches (Mark Mangino, Turner Gill, Charlie Weis, David Beaty) and one interim head coach (Clint Bowen).
Eight different men have served as KU's offensive coordinator during Albin's tenure working under Solich: Nick Quartaro, Ed Warinner, Chuck Long, Weis, John Reagan, Eric Kiesau, Rob Likens and Beaty. Five different men have coordinated the Jayhawks' defense since Burrow started with Solich in Ohio: Bill Young, Bowen (for three different bosses), Carl Torbush, Vic Shealy and Dave Campo.
Solich is in his 18th season as a head college football coach, Beaty his second.
When recruiting, Kansas banks on young athletes' desire to play in the most competitive conference that will have them. Ohio of the Mid-American Conference offers a winning tradition.
Beaty runs a fast-paced, Air Raid Offense that tends to feature more passes than rushes. Even in Saturday's blowout, 55-6 victory against Rhode Island, the Jayhawks attempted more passes (38) than rushes (35). Solich opened up his offense in 2012, but still favors the run (547 rushes, 403 passes in 2015).
Using its speed at wide receiver to exploit a young secondary gives KU its best shot at victory. Ohio's best path to victory lies in using its experience and physical maturity advantages in the trenches on both sides of the ball.
On the wrong end of a triple-overtime upset at the hands of Texas State last week makes Ohio a dangerous opponent, eager to make amends. Ending a 15-game losing streak in one-sided fashion gave the Jayhawks a sorely needed confidence boost.
Kansas seeks its first two-game winning streak since opening the 2011 season with victories vs. McNeese State and Northern Illinois. It won't be easy. It will come as a surprise if it's not packed with fourth-quarter suspense.
---