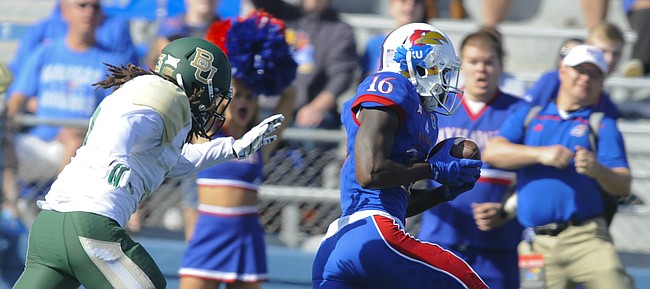 Rhode Island (0-0) at Kansas (0-0)
6 p.m. Saturday, Memorial Stadium • Game-time forecast: 76 degrees, 0% chance of rain • TV: Jayhawk Television Network
Log on to KUsports.com for our live game blog and follow our coverage team on Twitter: @KUSports, @BentonASmith, @mctait and @nightengalejr
Keys for Kansas
1. Quick start
Second-year KU coach David Beaty chose to keep the identity of his team's starting quarterback a secret in the days leading up to the season opener. Whichever QB Beaty decides to send out for the opening offensive series against Rhode Island, the signal-caller needs to get the year off to an encouraging start. Whether it's sophomore Ryan Willis, redshirt junior Montell Cozart or Beaty surprises the masses by going with redshirt freshman Carter Stanley, beginning the game with a touchdown drive would help the players (and fans) forget about the program's past struggles and prove this game and season won't be quite as difficult to endure. Beginning 2016 on a positive note would only help the Jayhawks in the weeks ahead, as well.
"You know, winning cures a lot now," Beaty said. "It cures a lot. And I think getting off to a fast start here would be a big, big deal for us. If I didn't talk about it or say that, then I would be remiss."
2. Defensive dominance
The Rams' offense this season obviously won't be a carbon copy of the team that scored just 13.2 points a game in 2015, but the Jayhawks need to remind URI's players of just how difficult it can be to move the ball down the field and put points on the scoreboard. Rhode Island scored 10 points or fewer five times last season, and KU has the athletes on defense to stymie their attempts to hang around and make this a competitive game. Three-and-outs, takeaways and negative plays for the Rams' offense should be the goal for KU's defense, even if the Jayhawks won't put their specific objectives out for public consumption.
"I don't necessarily have like statistics that we need to do," junior linebacker and captain Joe Dineen said. "I just think everyone knows when the defense plays good. That needs to happen. We need to play well. We need to get big third-down stops, we need to keep them out of the end zone, keep them out of field-goal range. I think if we do that it will be a successful day."
3. Special teams success
All offseason Beaty has raved about the impact special teams coordinator Joe DeForest has made, and preached the importance in winning that phase of the game in order for KU to become a more competitive program. From senior Matt Wyman's kickoffs, to field goals and extra points (courtesy of either Wyman or junior Gabriel Rui), to the hangtime and distance on freshman Kyle Thompson's punts, to returns and coverage, Beaty wants Kansas to master every aspect of special teams. For all the reasons to look forward to the debut, Beaty said for him one is to see if KU can play "clean" football.
"And do we understand that the three ways we're going to get better faster," he added, "is by being the smartest team in the country and not going backwards, and not giving your opponent anything — winning the turnover battle and turnover margin — and then truly dominating in all the phases of special teams."
Mega Matchup
Kansas running attack vs. URI defensive front
There's no better way for Kansas to establish some dominance and control the game from start to finish than by pounding Rhode Island's defensive front early and often with successful runs.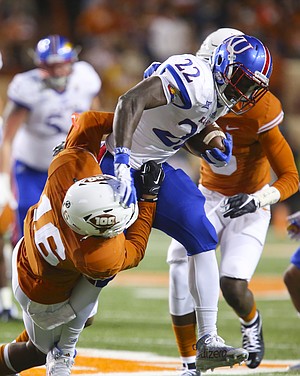 Senior Ke'aun Kinner, sophomore Taylor Martin, junior Denzell Evans and/or any other running back KU wants to put on the field should be able follow the offensive line to chunks of yardage and wear down the overmatched Rams.
An FCS program in the Colonial Athletic Association, URI won just one game a season ago and the roster doesn't feature a whole lot of FBS-level talent. Captain and senior linebacker Adam Parker earned preseason CAA first-team all-defense honors. Parker might have 219 career tackles, but if Kansas negates the defensive leader for the Rams, who opened 2015 with a 47-0 loss at Syracuse (one of four victories on the season for the Orange), the visitors will be in for another lopsided road loss against an FBS opponent.
5 Questions with WR LaQuvionte Gonzalez
1. Up to this point, what is your top personal moment or highlight as a college football player?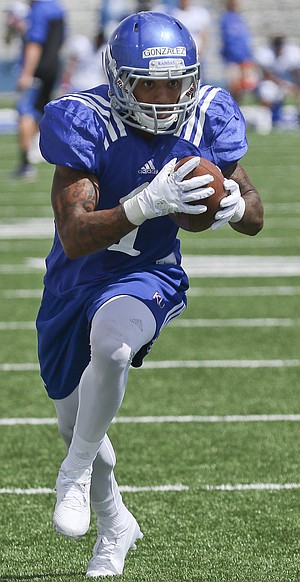 "I have to go back to the Alabama game (in 2013, freshman season at Texas A & M). The night before — or the day before — I woke up and I told my roommate I actually had a dream that I was gonna run it back on them when they kicked it off to me. And I actually could've run it back, but I made the wrong cut (on 65-yard return)."
2. How much more of an impact do you think you can make here than you were able to in two seasons with Texas A & M?
"I don't really have a lot of expectations for myself. Just for this team overall. Try to get some wins. That's really about it."
3. Now that you've been in the program for a year, who have you connected with?
"Jace Sternberger, Steven (Sims Jr.) and my roommate Taylor Martin. Just play the game. Hang out. We mainly go play basketball. But it's during the season now, so of course we won't be doing that. We just go to the rec and hoop. Play against the basketball team sometimes."
4. How would you describe yourself as a basketball player?
"Oh, I'm like (Oklahoma City star Russell) Westbrook. I'm going to the hole and I'm dunkin'. I'm dunkin'. That's it."
5. How can you use that same mentality as a receiver and make an impact on the football field?
"I mean, for me, it's just if it's in the air, I'ma get it. That's just hands down. That's how I look at it."
Jayhawk pulse
The time to win — and win comfortably — is now. The schedule gets significantly more treacherous in the weeks ahead for Kansas. For everyone involved with the team, an easy victory against Rhode Island would signify a small step toward where Beaty wants this program to go. For those Jayhawks who have been here longer than their head coach, it's their chance to experience a win again — for the first time since Nov. 8, 2014, when KU beat Iowa State at Memorial Stadium under interim coach Clint Bowen. It's not only a day for Beaty to expunge "winless as a head coach" from his résumé, it's a chance for this team to end a 15-game losing streak and make some headway toward earning some respect from its Big 12 peers.