The 250 passing yards and season-high 204 rushing yards posted in a loss to Oklahoma State allowed David Beaty to call his offense an improved product this week. The reality of life in the Big 12, though, meant the University of Kansas football coach could hardly characterize the effort as a success.
As Beaty said following a 44-20 defeat at Memorial Stadium, the only number that really matters is the point total.
"We scored 20 points. Yeah, we moved the ball quite a bit, up and down the field. But we put 20 points on the board," a frustrated Beaty said. "And I know we went for it on fourth down down there (early in the fourth quarter, behind by 14), but we were in a situation where we needed a touchdown there, and we felt good about the call (a Montell Cozart pass for LaQuvionte Gonzalez with the ball at OSU's four-yard line), and we just didn't execute it well enough. We've got to be able to score more than 20 points. We've got good enough players to do that, and we've got to continue to execute and get better."
In six consecutive losses, Kansas (1-6 overall, 0-4 Big 12) has failed to score more than 23 points. The Jayhawks only scored seven in losses at Memphis and Baylor. Beaty knows the offense has kept KU from pulling off an upset victory. Unprovoked, at the end of his post-game press conference Saturday, the head coach/offensive coordinator/quarterbacks coach made a point after praising starting QB Cozart (24-for-40, 250 yards, one touchdown, two interceptions versus OSU) to again hammer home his dissatisfaction with KU's scoring.
The Jayhawks averaged 17.2 points through four Big 12 games. Beaty said they'll have to find ways to put up 40-plus in this conference.
"We've got to score more points, though. Get that ball in the end zone so we can win a game, man," Beaty said.
To his point about points, the top six scoring teams in the conference all average at least 30 an outing in Big 12 play, led by Oklahoma's monstrous 50.2.
Senior KU running back Ke'aun Kinner rushed for 145 yards against the Cowboys. Referencing his own lost fumble in the midst of a tight game and the Jayhawks' 25 lost turnovers this season, Kinner spoke of obvious ways to make the team more competitive.
"We just have to stop making mistakes," Kinner said. "I mean, everything was working, everything was going our way (KU led most of the first half vs. OSU). We just didn't capitalize."
Offensive line's performance
KU's starting offensive line of left tackle Hakeem Adeniji, left guard Jayson Rhodes, center Joe Gibson, right guard Mesa Ribordy and right tackle D'Andre Banks held up well against Oklahoma State's defensive front.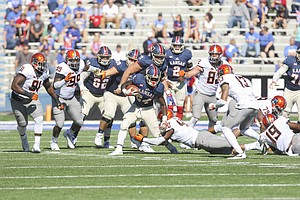 Cozart maintained his no-sack season and KU only lost six yards on rushing plays all afternoon.
"I think our guys are getting a little bit better, which is good," Beaty said. "I'm going to have to watch the tape, but there was some real challenge thrown out to those guys this week. But I thought Montell did a nice job of not getting those guys exposed by getting rid of the ball on time, using his eyes. That's really how it can work when you do it correctly."
The head coach revealed redshirt freshman Ribordy felt ill all Friday night, prior to the game, and even vomited on the sideline while battling "some kind of flu or something." At one juncture, junior Gibson had to sub out and Ribordy filled in at center.
"And the dude was sick as a ghost, man. He looked like a ghost, he was so white," Beaty said of the 6-foot-4, 290-pound freshman from Louisburg. "But I was proud of that dude because he never asked out one time. He's a tough kid."