After leading for most of the fourth quarter, the Kansas football team suffered a 24-23 loss against TCU on Saturday at Memorial Stadium when TCU junior kicker Brandon Hatfield made a 37-yard field goal with 1:21 left.
The Jayhawks (1-4) drove down the field in the final minute, setting up a 54-yard field goal attempt for kicker Matthew Wyman, which went wide right.
Kansas led by as many as nine points, 23-14, when sophomore quarterback Ryan Willis — who made his first start of the season — ran for a 21-yard touchdown at the end of the third quarter.
But the Horned Frogs (4-2) dodged an upset when Jaelan Austin caught a 25-yard touchdown pass at the beginning in the fourth quarter to set up Hatfield's game-winning kick in the final minutes.
Photo Gallery
Kansas football v. TCU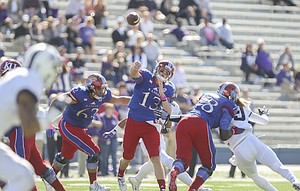 View a gallery of images from Saturday's game between the Jayhawks and Horned Frogs at Memorial Stadium.
Podcast episode
Kansas football coach David Beaty answers questions following his team's 24-23 loss against TCU, which moved the Jayhawks to 1-4.
Willis, who played the entire game at quarterback, finished 31-of-45 for 348 yards and three interceptions. Steven Sims Jr. had nine catches for 101 yards, Shakiem Barbel had nine receptions for 94 yards and LaQuvionte Gonzalez made eight receptions for 131 yards.
Wyman was 3-of-6 kicking, missing three attempts in the fourth quarter. He made a 50-yard attempt in the second quarter.
Defensively, Brandon Stewart grabbed two interceptions, Greg Allen snagged another interception, and Cameron Rosser recorded two of the team's three sacks.
The Kansas defense held TCU to 366 yards of offense.
SCORING SUMARY
FIRST QUARTER
6:02 — Taylor Martin 1-yard run. Matt Wyman kick. Nine-play drive for 44 yards, in 2:34. (KU 7, TCU 0.)
SECOND QUARTER
9:59 — Kyle Hicks 3-yard run. Brandon Hatfield kick. One-play drive for three yards, in 0:05. (KU 7, TCU 7.)
3:48 — Wyman 50-yard field goal. Six-play drive for 19 yards, in 2:31. (KU 10, TCU 7.)
1:31 — Kenny Hill 18-yard run. Hatfield kick. Six-play drive for 64 yards, in 2:10. (TCU 14, KU 10.)
THIRD QUARTER
10:02 — Wyman 29-yard field goal. Six-play drive for 36 yards, in 2:16. (TCU 14, KU 13.)
5:01 — Wyman 21-yard field goal. Seven-play drive for 69 yards, in 3:17. (KU 16, TCU 14.)
0:29 — Ryan Willis 21-yard run. Wyman kick. Two-play drive for 25 yards, in 0:44. (KU 23, TCU 14.)
FOURTH QUARTER
13:54 — Hill 25-yard pass to Jaelan Austin. Hatfield kick. Six-play drive for 75 yards, in 1:35. (KU 23, TCU 21.)
1:21 — Hatfield 34 field goal. Eight-play drive for 59 yards, in 2:24. (TCU 24, KU 23.)