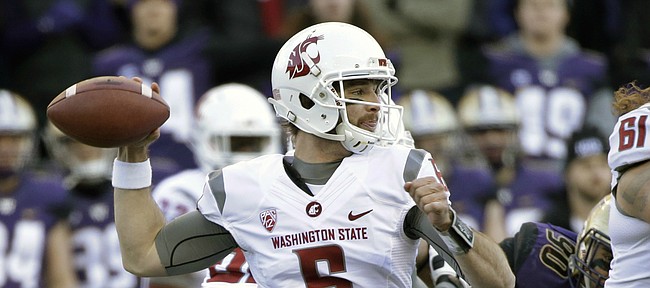 This one won't show up in the record book, but give the Kansas football program another victory for the weekend.
During an official visit to KU, former Washington State quarterback Peyton Bender watched the Jayhawks upset Texas in overtime at Memorial Stadium. Now Bender hopes to be a part of such wins for Kansas in the future.
A 6-foot-1, third-year sophomore, who spent this past season at Itawamba Community College, Bender told Jon Kirby of Jayhawk Slant he verbally committed to KU.
"I'm just really excited for the opportunity and it is a good fit for me," said Bender, who has two years of eligibility remaining. "I think I can go in and compete and hope for some playing time. I think it is a good fit overall and I can go in there and hopefully have an impact."
Rivals.com's No. 25 QB in the nation coming out of Cardinal Gibbons High (Fort Lauderdale, Fla.) in the Class of 2014, Bender started a game for Washington State as recently as a year ago. He spent two years — one as a redshirt — in Mike Leach's version of the Air Raid offense.
Bender completed 36 of 58 passes for 288 yards and a touchdown, with two interceptions, in a loss at Washington to close the 2015 regular season, while filling in as the Cougars' starter.
After passing for 2,733 yards and 21 touchdowns with four interceptions in nine games for ICC, in Fulton, Miss., this season, Bender hopes his Air Raid knowledge will make it easy for him to pick things up in David Beaty's system.
"I know a lot of the concepts. As far as the language and terminology, it is a little different," Bender said. "But that is always going to be different from offense to offense. But there are similarities to what I ran at Washington State. I ran another form of Air Raid in junior college. I feel like I have a pretty good idea of it and what I will be coming into at Kansas."
Bender transferred to Itawamba CC this past offseason after being ruled academically ineligible at WSU for the 2016 season.
According to what Bender told Jayhawk Slant, his relationship with Beaty, who had visited the QB recruit in Mississippi, helped his decision.
"He's a great guy," Bender said of KU's head coach and offensive coordinator. "He's enthusiastic and is always going 100 miles an hour. He's a player's coach. He's a guy you want to go out there and win games for. As a player you can't ask for anything more than that."